News
13 August 2009
Osram develops 50mW direct-emitting green InGaN laser
Osram Opto Semiconductors GmbH of Regensburg, Germany has reported what it claims is the first direct-emitting 'true green' indium gallium nitride (InGaN) laser diode - emitting light at 515nm - with high optical output power (50mW).
Osram Opto already offers blue-emitting InGaN laser diodes for commercial applications. But, in the true green 515-535nm wavelength range, efficient high-quality semiconductor lasers have been commercially available only as frequency-doubled versions. Compared with semiconductor lasers based on existing frequency doubling technology, direct-emitting green lasers are more compact, offer greater temperature stability, are easier to control, and have higher modulation capability at several 100MHz, says the firm. Although the new laser is just at the pre-development stage, in the medium term direct-emitting green lasers could therefore replace frequency-doubled lasers for many applications, says Osram Opto.
The laboratory prototype achieved optical output power of 50mW in pulsed mode at room temperature. The threshold current density was about 9kA/cm2. "With this demonstrator we have shown that green lasers can be manufactured from indium gallium nitride," claims chief technology officer Dr Christian Fricke. "We are therefore on course to produce compact, cost-effective, high-quality green laser light sources," he reckons.
Previously, in late February Osram Opto demonstrated the first InGaN-based laser with an emission wavelength of 500nm (blue-green), then at the end of May Japan's Nichia Corp reported blue-green lasing at 510-515nm. In mid-July, Japan's Sumitomo Electric Industries Ltd reported what it claimed was the first semiconductor laser diode emitting pure green light (a wavelength of up to 531nm under pulsed operation at room temperature). Although the threshold current density was just 8.2kA/cm2 at the laser's average emission wavelength of 520nm, the output power was just 28mW at a current of up to 1240mA.
Green lasers are used in many medical and industrial applications, as well as light sources in mobile mini-projectors. A direct-emitting green laser could help to make these projectors smaller and with even better performance. Osram Opto is developing efficient InGaN-based laser light sources as part of the MOLAS research project (sponsored by the German Ministry for Education and Research, and running until March 2011), which involves technologies for ultra-compact and mobile laser projection systems.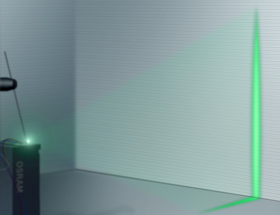 Osram Opto adds that the great advantage of laser projectors – a consistently sharp, true-color, high-contrast image irrespective of the projection distance and projection surface – should some day also be available to users of cell phones and cameras.
See related items:
New angle on approach to green lasers
Sumitomo Electric claims first pure-green semiconductor laser
Nichia pushes InGaN lasers nearer to green via 515nm emission
Osram Opto claims first 500nm InGaN laser
Non-polar InGaN lasers near green light

Search: Osram Green laser InGaN
Visit: www.osram-os.com