News
18 August 2009
Plasma Etch launches low-cost benchtop plasma cleaning system for R&D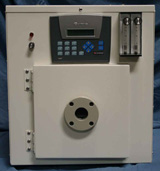 Plasma Etch Inc of Carson City, NV, USA has introduced the PE-50, which it describes as a highly affordable benchtop plasma cleaning system designed specifically for universities and R&D facilities.
Picture: PE-50.
The PE-50 uses a substantial 6" x 6" x 4" aluminum vacuum chamber for accommodating substrates up to 5" x 5" with 3" of height clearance. The system includes a 125W, 50KHz RF power supply with continuously variable power capability that is not limited to a few fixed power settings. A 13.56MHz RF power supply with automatic tuning is available as an option. The system also includes two process gas roto-meters for independent gas control or gas mixing introduction to the vacuum chamber and a 7cfm (cubic feet per minute) vacuum pump charged with Fomblin oil for oxygen compatibility.
In particular, the PE-50 incorporates a PLC control system for automatic process sequencing. A keyboard is used for operator entry and one complete process recipe can be displayed and stored in memory for reliable operation and repeatable results, says the firm.
Applications include solar cells, MEMS, nanotechnology, and wafer-level packaging.
See related items:
Plasma Etch launches high-rate RIE version of plasma system
Plasma cleaning and contamination removal system

Search: Plasma etch RIE
Visit: www.plasmaetch.com