News
15 December 2009
Cree introduces EasyWhite bins to simplify LED design and improve color consistency
Aiming to both simplify LED system design and improve LED-to-LED color consistency, LED maker Cree Inc of Durham, NC, USA has made available EasyWhite bins, which give emission at a consistent correlated color temperature (CCT) of either 3500K, 3000K and 2700K as well as being as much as 75% smaller than the ANSI C78.377 standard color regions.
The bins are initially offered for Cree's multi-chip XLamp MC-E LEDs. Rather than four chips with a common phosphor coating, the MC-E package contains four individual white LED emitters (i.e. chips with different phosphor coating, and hence different properties). The chips are chosen to allow color-mixing internally within the package so that the resulting white-light output is within the desired EasyWhite color bins.
Prior to this, users have had to manually mix different LEDs from multiple bins to achieve consistent color points. However, for many LED lighting applications, such as MR-16 light bulbs, color-mixing multiple LEDs (where possible) made manufacturing undesirably complex, with more inventory, more parts to place, and complicated mixing recipes.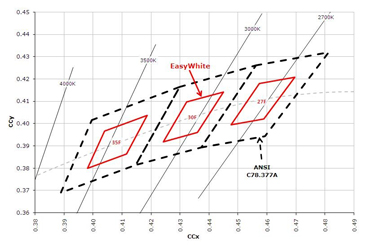 "We've listened to our customers' requests for tighter color points, especially for warm- and neutral-white lighting applications," says Paul Thieken, Cree's director of marketing for LED components. "Our goal is to increase end-product color consistency for all lighting applications, and EasyWhite bins can reduce manufacturing complexity and inventory needs," he says. "Customers can now buy LEDs just like traditional light bulbs, by specifying CCT and light output."
The MC-E EasyWhite LED, at 3000K CCT, can produce up to 560 lumens when operated at a drive current of 700mA. Cree says that this single LED is a suitable replacement for 20–35W halogen light bulbs in indoor lighting applications such as accent, track and pendant lighting.
XLamp MC-E EasyWhite LEDs are available in sample quantities now, and in production quantities with standard lead times.

Search: Cree LEDs White bins
Visit: www.cree.com