News
26 January 2009
Bookham raises bar laser output to 200W; unveils 60W 30% fill-factor 808nm bar
At this week's Photonics West 2009 event in San Jose Convention Center, Bookham Inc of San Jose, CA, USA, which makes optical components for industrial applications, has unveiled what it believes is the most powerful commercially available continuous wave (CW) single-bar product: a 10mm laser diode bar with an output power of 200W (up 60% on its previous product with the same footprint). Available in wavelengths of 915-980nm, the higher-power bar is designed to enable manufacturers of direct diode laser systems to compete with fiber lasers and CO2 lasers in multi-kilowatt material processing applications.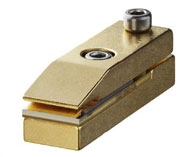 The new bar is designed on a micro-channel single-sided cooling configuration to allow a low pitch for the stack, and meets the need of direct diode and solid-state laser system manufacturers for increased power with discrete piece parts and reduced complexity of optics, says Bookham. In line with scaling the output to 200W, efficiency has been scaled to reduce heat dissipation, resulting in a wall plug efficiency of 65%.
Picture (above): Bookham's 200W laser diode bar.
"Bringing to market a diode bar capable of delivering 200W with such a small form factor is a major achievement," claims Gunnar Stolze, director High Power Laser marketing & sales. CO2 laser systems have dominated the materials processing market in the 5-20kW range for applications such as metal cutting and welding. The new high-power, high-brightness bar will open up that significant market to the direct diode manufacturers, he adds.
Bookham has also launched its latest generation of high-power 808nm-wavelength laser diode bars. A capability of delivering 60W of output power with a fill factor of just 30% and an emitter pitch of 500µm suits fiber-coupled and pump laser applications, including defense, medical and material processing laser systems.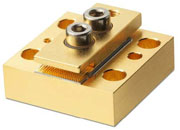 Retaining the existing small footprint of Bookham's 40W 30% fill-factor products enables existing customers to upgrade their laser system's power without altering current bar configurations, and without the need to replace expensive optics, says the firm.
Picture (above): Bookham's 60W 30% fill-factor laser diode bar.
"The new generation of 808nm bar products continues to meet customer demand for higher powers with greater fiber coupling efficiency," says Stolze. "We are already working closely with customers to offer further reduced fill factors," he adds.
Bookham says that, like all its High Power Laser products, the front facet of both new laser diode bars is protected against catastrophic optical damage by the firm's proprietary E2 mirror passivation process. Telecom-grade AuSn (gold tin) hard solder makes the products suitable for demanding industrial and defense applications in CW and hard pulse operation mode.
*At Photonics West's associated symposium LASE 2009, Bookham is presenting two technical papers: 'Improved brightness on broad-area single emitter (BASE) modules' and 'Power scaling of bars toward 80mW per 1µm stripe width reliable output power'.

Search: Bookham Laser diode bars
Visit: www.bookham.com
Visit:
http://spie.org/photonics-west.xml