News
27 January 2009
Bridgelux launches LED arrays for solid-state lighting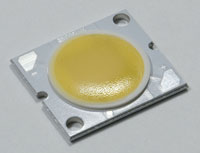 Bridgelux Inc of Sunnyvale, CA, USA, which designs and makes power LED chips based on ITO/InGaN (indium tin oxide/indium gallium nitride), has launched an LED array product line to provide high-performance, compact and cost-effective light sources for solid-state lighting (SSL).
Picture (above): Bridgelux's Rectautral white LED chip.
The LED arrays have been specifically developed to simplify system-level integration for lamp and luminaire manufacturers, further reducing system cost. Typical applications include task, accent, spot, track, down-light, wide-area and security lighting. This global market is currently estimated by the Next Generation Lighting Industry Alliance (NGLIA) to be about $40bn. Bridgelux estimates that the annual market potential for LED lamps and luminaires alone will be about $10bn by 2012.
The product suite is designed to deliver comparable performance to standard incandescent, halogen, compact fluorescent and high-intensity discharge (HID) lamps. The arrays have an output of 400-2000 lumens and are offered in warm-, neutral- and cool-white color temperatures, allowing optimization of the light distribution for specific applications. They also offer improved energy efficiency, lower maintenance cost and the elimination of hazardous materials (e.g. mercury or lead found in traditional lighting technologies), while delivering a uniform, high-quality light source, the firm claims. The arrays are RoHS compliant and are tested and binned to an ANSI/Energy Star compliant binning structure.
"Bridgelux's innovative packaging technology not only offers a light source that can be seamlessly integrated into a luminaire, but also delivers increased usable light though a simplified thermal design," says director of marketing Jason Posselt. "These products have been designed with the end application in mind, focusing on delivering both the quantity and quality of light required for general lighting applications together with an ability to significantly reduce the cost of light." The LED Array technology should enable the optimization of overall system design, reducing SSL manufacturing costs, he adds.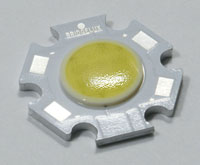 Bridgelux controls all of the core LED technologies involved—from epitaxy to packaging—enabling it to deliver light sources that can be integrated easily into lamp and luminaire designs, reducing system cost and accelerating time-to-market, the firm claims. The LED array also improves the light source's lumen per watt per dollar performance.
Picture (above): Bridgelux's Star cool white LED chip.
"This product launch represents a significant milestone achievement in line with the company's commitment to deliver high-quality, energy-efficient lighting solutions," says CEO Mark Swoboda. "Lamps and luminaires that incorporate LED lighting sources will play an increasingly important role in our effort to reduce overall carbon footprint by minimizing energy consumption and eliminating the use of hazardous materials," he adds.
See related items:
Bridgelux awarded patent for surface-mountable LED chip
Bridgelux and Cree settle patent infringement litigation
Bridgelux ships low cost-per-lumen LED chip

Search: Bridgelux LEDs ITO/InGaN SSL
Visit: www.bridgelux.com