News
2 January 2009
Mimix launches 1.6GHz 30W power amplifier module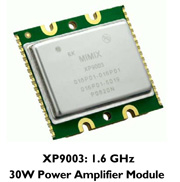 Mimix Broadband Inc of Houston, TX, USA, which supplies GaAs semiconductors from DC to 50GHz for microwave and millimeter-wave applications, has launched a highly linear, three-stage power amplifier module with 30W of peak-power and 38dB of small-signal gain, designed specifically for satellite communications transmitters with high peak-to-average ratio signals.
Housed in a 40mm x 36mm, RoHS-compliant, surface-mount, thermally efficient package with a shielded metal lid, the XP9003 operates at 1.6GHz and is fully matched internally, with no external components required. The module offers active bias circuit and control voltage, allowing for current setting and minimizing variation over temperature and voltage.
"The XP9003 offers a great deal of integration, enabling users to reduce component count, save valuable board space and minimize system size while achieving high linear performance," says product manager Amer Droubi. "In addition, this surface-mount amplifier module has excellent thermal performance due to its high power efficiency combined with a copper heat spreader attached to the bottom of the package," he adds.
See related items:
Mimix adds 7.1 to 8.5 GHz QFN packaged GaAs MMIC linear PA to product portfolio
Mimix appoints vice president of Special Projects
Mimix appoints senior vice president of sales and marketing
Visit: www.mimixbroadband.com