News
9 January 2009
Copper indium disulfide PV maker Odersun appoints CEO to lead expansion phase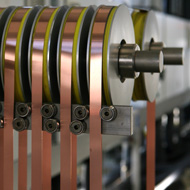 Odersun AG of Frankfurt (Oder), Germany, which manufactures flexible thin-film solar cells, modules and applications using proprietary CISCuT (copper indium disulfide on copper tape) roll-to-roll manufacturing technology, has appointed Dr Hein van der Zeeuw as CEO.
Picture: Odersun's solar cell production on copper tape. (Credit: Odersun AG. Photo: Winfried Mausolf)
He succeeds Ramin Lavae Mokhtari, who was instrumental in developing Odersun from a research institute to a commercial enterprise. Mokhtari will leave Odersun at the end of January, but remains connected as a shareholder and consultant.
The appointment follows milestones in recent years since the firm was founded in 2002, including the proof of concept, followed by installation of the firm's first commercial production line ('SunOne', opened in April 2007 to generate know-how for subsequent, larger production units).
Last February, Odersun raised €61m ($90m) in funding, including €21m in grants from the federal state of Brandenburg plus a €40m series B equity financing round led by Virgin Green Fund of the USA/UK, and joined by the USA's PCG Clean Energy & Technology Fund and AGF Private Equity (a member of Allianz Group, France), as well as existing investors Doughty Hanson Technology Ventures of the UK, and China-based Advanced Technology & Materials.
This allowed Odersun to break ground last March on its €50m, 30MW 'SunTwo' production facility, which is divided into cell fabrication (six production lines, each replicating SunOne) and module production (focused on standard modules for solar parks and building integrated photovoltaics). Fabrication was due to start in fourth-quarter 2008 (ramping up line by line to provide as many as 150 new jobs). van der Zeeuw will lead Odersun's growth phase, expanding volume manufacturing and sales.
"The appointment of Hein van der Zeeuw is the beginning of an exciting new era, enabling us to strategically grow the company and to set the stage for long-term success," says chairman George Powlick, who highlights van der Zeeuw's operating experience and strategic insights. van der Zeeuw, who has a doctorate in physics, is a 26-year veteran of the electronic components and semiconductor industry and former member of the board of management of NXP Semiconductors, which was spun out from Philips in 2006.
"Odersun is very well positioned to be a dominant player in the emerging and fast growing building integrated photovoltaic (BiPV) market," believes van der Zeeuw. "The company has a clear vision and possesses innovative technology," he adds.

Search: Thin-film solar cells
Visit: www.odersun.com