News
2 July 2009
Lumileds launches LUXEON Rebel phosphor converted amber LED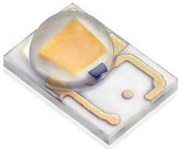 Philips Lumileds of San Jose, CA, USA has made available the LUXEON Rebel phosphor converted amber (PC Amber) LED. The firm claims that its latest LUXEON Rebel LED yields 2-5 times more light output and dramatically less color shift compared to typical amber LEDs. The PC Amber delivers typical flux of 70 lumens at a drive current of 350mA, enabling solution and application providers to reduce the number of LEDs used, the cost per lumen, overall system costs, and to simplify the solution manufacturing process.
"The number and breadth of applications that require amber LEDs is tremendous," says Frank Harder, VP of product marketing, citing the automotive, entertainment, roadway, and signaling markets. "With better efficiency and more light output, LUXEON Rebel PC amber makes it that much easier to reduce energy consumption with an environmentally friendly product," he adds.
Many applications have not switched from conventional incandescent lamps to LEDs because they did not produce enough light and could not operate effectively at higher temperatures, says Lumileds. With the PC Amber, yellow traffic signals can be converted, warning lights and beacons on vehicles and obstructions can be switched, and entertainment applications can adopt the new LEDs, the firm adds.
Automotive applications, such as those for braking and signaling, use significant numbers of amber LEDs. With the PC Amber, manufacturers can use fewer LEDs and lower other component costs because of the improved light output and, in particular, the stable color over temperature, which has been problematic for many auto makers. Lumileds expects full automotive qualification later this year.
PC Amber LEDs are available through exclusive worldwide distributor Future Lighting Solutions (a division of Future Electronics).

Search: Philips Lumileds LUXEON Rebel LEDs
Visit: www.futurelightingsolutions.com
Visit: www.philipslumileds.com