News
11 March 2009
Amonix replaces silicon with III-Vs for its latest CPV system
At this week's Renewable Energy World Conference and Exposition in Las Vegas, NV (10-12 March), Amonix of Torrance, CA, USA has demonstrated its latest concentrating photovoltaic (CPV) system, which has replaced the 27.6%-efficient silicon cells in the firm's previous-generation systems with 37%-efficient III-V-based multi-junction cells (yielding 30% module efficiency). This has produced what is claimed to be the first CPV system with a solar energy conversion efficiency of 25% (AC, post-inverter).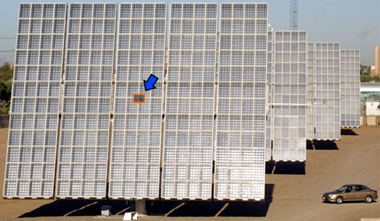 The Amonix 7700 High Concentration Photovoltaic (HCPV) system consists of seven proprietary MegaModules. Each MegaModule contains 36 receiver plates, each having its own matching sheet of 30 inexpensive plastic Fresnel lenses (which concentrates sunlight to 500 times its usual intensity). Integration of the lens, mounting structure and solar cell into a single unit eliminates over 75% of the parts and costs associated with other concentrator designs while providing advantages in ease of manufacturing, installation and maintenance, the firm claims.
Each MegaModule is factory assembled and aligned to a maximum transportable size (48ft x 72ft) before shipping to the field for rapid and cost-effective deployment within days. This reduces construction time, the firm says. With a nominal rated power output of 53kW per unit and a design lifetime of 40 years, the Amonix 7700 is designed for utility-scale deployment (applicable to both distributed generation and centralized solar farms).
"The Amonix 7700 is the largest and most powerful high-concentration photovoltaic power generator in the world and leverages our 15 years of field experience to reliably produce cost-competitive and emissions-free renewable energy," says CEO Vahan Garboushian. Founded in 1989, Amonix has almost 13MW of silicon-based HCPV technology installed worldwide, and the 7700 is the firm's seventh-generation commercial system.
Also, by incorporating Amonix's patented 'built-in' dual-axis tracker, the 7700 generates over 40% more energy in sunny climates than conventional fixed solar panels, better matching utility demand curves, claims the firm.
As well as having lower installed costs, the system also requires less land (just 5-6 acres per MW of installed capacity) than competing systems, it is reckoned.
In addition, due to the 7700 system's modular design, individual solar cells are field replaceable and easily upgradeable as higher-efficiency multi-junction solar cells become available, Amonix adds.
See related item:
GaAs CPVs to grow at 133% to 10% of terrestrial market in 2012

Search: Amonix CPV III-V-based multi-junction cells
Visit: www.amonix.com