News
24 March 2009
Ascent Solar opens expanded headquarters in Colorado
Ascent Solar Technologies Inc has expanded from its existing facility in Littleton, CO, USA, where its 1.5MW capacity manufacturing line produces fully integrated lightweight copper indium gallium diselenide (CIGS) thin-film photovoltaic modules using a flexible plastic substrate, with the opening of its new headquarters in Thornton, CO, just north of Denver. The opening was attended by Colorado governor Bill Ritter Jr, City of Thornton mayor Erik Hansen, Adams County commissioner Larry Pace.
Ascent renovated an existing 120,000ft² building in Thornton to 145,000ft², expanding it to house its new headquarters and planned 30MW capacity solar module manufacturing lines. Initial equipment installation has started and production will begin next year, and module production should begin late this year. Ascent aims to add 180-200 jobs there over the next two years.
"Thanks to companies such as Ascent Solar, all across Colorado, we're creating a sustainable energy future, sustainable opportunities for new businesses, and sustainable jobs," said Governor Ritter. "The New Energy Economy is leading Colorado forward and will be one of the keys to bringing us out of this recession. Colorado and Ascent Solar's success are a model for how America can and must re-tool our entire economy."
"Ascent Solar's flexible, thin-film technology has been in development in Colorado for more than 15 years, so it is a great milestone to open a large-scale facility here that will help bring talented employees and a unique enabling solar technology to the market at a time when the economy and environment are creating great demand," says chairman & CEO Dr Mohan Misra.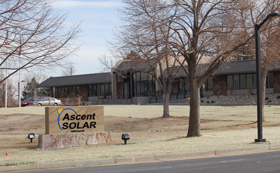 The firm says that it is working with its partners to develop products that include building-integrated photovoltaics (BIPV), which can be incorporated in rooftops, awnings and siding, for example.
Picture: Ascent's new headquarters and planned 30MW plant in Thornton, CO.
See related items:
Ascent claims first production of fully integrated CIGS PV modules on plastic substrate
Ascent Solar receives Colorado Governor's Excellence in Renewable Energy award
Ascent Solar achieves 9.64% CIGS PV module efficiency

Search: Ascent Solar CIGS thin-film PV modules
Visit: www.ascentsolar.com