News
18 March 2009
AXT's chairman & CEO Yin steps down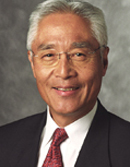 AXT Inc of Fremont, CA, USA, which manufactures gallium arsenide, indium phosphide and germanium substrate and raw materials, says that Dr Philip C. S. Yin has resigned as chairman & CEO in order to pursue other opportunities. He has also resigned as a member of the board of directors.
Picture: Dr Philip C. S. Yin.
Jesse Chen, an AXT director since 1998 and lead independent director, has been named non-executive chairman of the board, which will conduct a search for a successor CEO.
"We appreciate the contributions that Phil has made to the company since his appointment as CEO in 2005," says Chen. Yin also replaced Chen as chairman in October 2007. "We thank him for his dedication and the many contributions that he has made, and we wish him well in his future endeavors," adds Chen.
From a low of just $26.5m in 2005, under Yin's guidance AXT's annual revenue rose to $73.1m in 2008.
Prior to joining AXT, from 2003 to February 2005 Yin was general manager for North America of Aixtron Inc, and from 2002 to 2003 he was sole proprietor of Philip S. Yin Consulting (a consultant of semiconductor materials in areas of epitaxial deposition, silicon wafers and strategic business development). From 1999 to 2002, he was president of ATMI Epitaxial Services. Prior to that, he held positions as senior VP sales & marketing of Crysteco, and director of sales for Mitsubishi Silicon America. He also held positions with Monsanto Electronics Materials and IBM Thomas J. Watson Research Center.
See: AXT Company Profile

Search: AXT GaAs GaAs substrate InP Germanium
Visit: www.axt.com