News
10 March 2009
Edwards sells 1000th iXH vacuum pump
Vacuum and exhaust-management equipment maker Edwards of Crawley, West Sussex, UK says that it has now sold 1000 iXH harsh process vacuum pumps to semiconductor and solar manufacturers since the product was introduced just a year ago, in February 2008.
Solar and semiconductor manufacturing processes such as gallium arsenide compound semiconductors require vacuum technology capable of handling high hydrogen gas flows, says CEO Nigel Hunton. "The iXH series was specifically designed to address these challenges, while reducing cost of ownership with longer pump life and lower utility costs," he adds. "The rapid industry adoption of iXH technology is a testament to its success in meeting these challenges."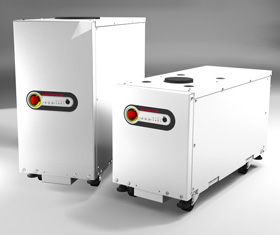 Hydrogen is a difficult gas to pump due to its small molecular size and low viscosity, so the iXH pumping system uses a series of large-capacity pumps and boosters to attain the optimum compression ratio required to pump hydrogen efficiently.
The system is modular and highly configurable, making it easy to meet the site installation and performance requirements for a variety of solar and semiconductor manufacturing processes, says Edwards. The components can also be stacked on top of each other to achieve what is claimed to be the smallest footprint in the industry. Multiple iXH modules, configured to meet application-specific requirements and managed by a single controller, appear to the operator as an easy-to-use, seamlessly integrated vacuum system.
The iXH series of dry pumps for harsh processes offer greater process capability and reduced cost of ownership (CoO) compared to previous-generation Edwards pumps. Reduced CoO is achieved through a 10% reduction in energy consumption, longer overhaul intervals, and reduced unscheduled downtime. They also feature a wide temperature range (which helps to minimize by-product accumulation), greatly increased powder-handling capabilities, and unique Gas Buster technology, as well as innovative pump seal technology that helps to lengthen process life and reduce leakage risks, adds Edwards.
See related items:
Aixtron orders Edwards GaN exhaust treatment systems for R&D lab
Edwards launches iXH series of vacuum pumps for compound semiconductor and ALD processes

Search: Edwards
Visit: www.edwardsvacuum.com