News
3 March 2009
Lumileds' Luxeon LEDs light Osaka street lamps
Reflecting the emergence of solid-state lighting as an energy-efficient alternative to street lamps using standard light sources, Philips Lumileds of San Jose, CA, USA has announced the installation of the first street lights using its Luxeon power LEDs in Osaka Prefecture in Japan.
The fixtures, developed by Osaka-based Three Force, are contributing to an overall saving of 88% in electricity bills over the older high-pressure mercury lamps used elsewhere in the region. "Our new street lamps in Osaka are saving a tremendous amount of energy and pedestrians really enjoy the quality of light that we get from the Luxeon LEDs," says Three Force's CEO & president Kazuaki Ueshima.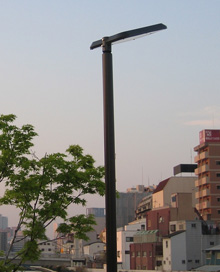 Installed in a park on the Kizu River, each LED-based street lamp uses 36 cool-white Luxeon LEDs. The LED array generates 30 lux at a pole height of 4.5m, comparable to the brightness of mercury lamps, while using just 25W of power per fixture. Three Force worked with Future Lighting Solutions to ensure that system design and bin selection enabled it to meet the solution specifications.
In addition to energy savings, Luxeon LEDs offer a 60,000-hour lifetime (5-10 times longer than mercury vapour), mercury-free construction, and the ability to achieve uniform light distribution with minimal glare in street-lamp applications because of the greater control over light direction enabled by Luxeon's small form factor. Light can be precisely targeted through LED placement and optics optimization.
"This initial installation in Osaka Prefecture is part of an emerging movement to bring LED illumination to streets and sidewalks," says Norihide Yamada, general manager Japan for Philips Lumileds. "We are seeing growing interest in solid-state street lamps from partners and cities around the globe and certainly here in Japan," he adds. "Municipalities are familiar with the energy and maintenance benefits of LEDs, and street lighting promises to be the next big wave of LED adoption at the municipal level."

Search: Philips Lumileds Street lights LEDs
Visit: www.philipslumileds.com