News
2 March 2009
Osram provides online thermal models for LEDs
Osram Opto Semiconductors GmbH of Regensburg, Germany has provided thermal models for computing different LED designs as downloads for the first time. In addition to electrical, mechanical and optical data, a compact model for Flotherm software is now permanently available online for calculating thermal behavior.
Different designs can be tested without having to build costly prototypes or carry out time-consuming measurements. "This significantly shortens the design phases and drastically reduces development costs," says Joachim Reill, director LED Applications Engineering. The data is available for standard high-power LEDs in the visible range, particularly for the DRAGON family, the Advanced Power TOPLED range, the Power TOPLED range, and some OSTAR versions.
The compact model available on the website is a simplified thermal geometry model that can be integrated in Flotherm software and can be used for customer-specific calculations. It is suitable, for example, for calculating the temperature distribution in a planned system. With extended application support it is possible to design all end-applications, including display backlighting, in terms of thermal criteria. "Customers can use simulations to see which LEDs are suitable for which boards and then check the thermal behavior of the overall design," says Reill.
Osram's Golden DRAGON LEDs light up Jing Jiang City
Osram Opto Semiconductors says that its Golden DRAGON LEDs are lighting up a major thoroughfare of Jing Jiang City in the Jiangsu province of China.
Jiangsu Hua Jing Photoelectronics has installed fourteen 8m-high prototype 180W LED streetlights containing Golden DRAGON LEDs in a pilot project to replace traditional 250W HID (high-intensity discharge) lamps. Based on Hua Jing's tests, the Golden DRAGON based-street lamps offer energy savings of more than 37%, together with an improvement in night visibility.
Currently, there are about 8000 street-lights in Jing Jiang city and its development zone. Getting the new LED lamps approved in Jing Jiang will be a combined effort of the government and the local community, working closely with Jiangsu Hua Jing. China's Ministry of Science and Technology is pushing to replace traditional incandescent lighting with more energy-efficient LEDs, and targets RMB260bn in energy savings by 2015.
"China is leading the way with its commitment to energy-efficient lighting solutions, and LEDs are increasingly recognized as the best light source to meet this commitment," says Dr Alfred Felder, president & CEO of Hong Kong-based Osram Opto Semiconductors Asia Ltd.
Golden DRAGON LEDs in first LED street-lighting in Finland
After extensive testing, the Levi ski resort in Kittilä is to be the first district in Finland to install LED street-lighting.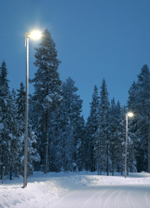 The system comprises 64 Starium Dragon 60 luminaires from EasyLed Oy, each equipped with 60 Osram Opto Semiconductors Golden DRAGON LEDs fitted with oval lenses (3840 LEDs in total). The LED street-lamps consume just 41W, cutting energy costs for the local authority and, together with minimal maintenance requirements, leading to a payback period of just 4.5 years, it is reckoned.
Picture: EasyLed's low-profile Starium Dragon 60 luminaires, each equipped with 60 Golden Dragon LEDs and oval lenses from Osram Opto. Source: EasyLed
"We were particularly persuaded by the excellent color rendering [with a color temperature of 5600K, similar to natural light], the vibration resistance of the light sources, and the freedom to create any luminaire designs thanks to the small size of the LEDs," says EasyLed's product development director Mika Nummenpalo. "The stability of the luminous flux and the ideal distribution of light with no scatter – and therefore no light pollution – were key factors in the decision to install LEDs," adds Ari Tiilikainen, a lighting designer at Lite-Design. "Thanks to sophisticated thermal management, we were able to give the luminaires a modern low-profile design, as requested by the local authority," he adds.
"The Starium Dragon 60 offers the best luminous efficacy and therefore the greatest potential savings," reckons Jari Kinnunen from the Technical Department in the Kittilä authority.

Search: Osram LEDs Street lighting
Visit: www.osram-os.com/thermal-files