News
26 May 2009
White HB-LEDs to overtake RGB multichip HB-LEDs by 2013
Market consumption of packaged high-brightness LEDs (HB-LEDs) was nearly $4.6bn in 2008 and will grow to $10.5bn in 2013, according to a new report by market research firm ElectroniCast Consultants.
The use of white HB-LEDs is forecasted to grow six-fold, at an average annual rate of 43.5% over 2008-2013. Meanwhile, the use of red-green-blue (RGB) multiple-chip HB-LEDs will remain strong, although the growth rate will be flat over the forecast period, says Stephen Montgomery, president of Asia Pacific at ElectroniCast Consultants and director of the LED project group. "White LEDs are taking market share from the RGB multichip segment, and we see white LEDs almost taking the relative market leadership by 2013," he adds.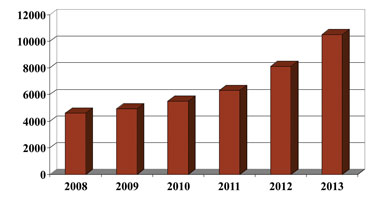 Figure 1: HB-LED consumption ($bn), 2008-2013.
Market consumption of HB-LEDs used in signals (most notably traffic signals and pedestrian signal/controls) is forecasted to grow a dramatic average annual growth rate of 46.7% over 2008-2013. "The HB-LED signal market segment includes both retrofitting applications and new fixture deployments," says Montgomery. "Additionally, incentives based on 'going-green' or 'green-tech' initiatives are increasing the use of HB-LEDs in the signal segment," he adds. "Other dynamics include the safety of pedestrian and vehicle traffic, since the LEDs are a proven and reliable technology. LEDs are a good choice in this sector because, as in all applications, the low-energy consumption models drive the LED markets."
HB-LEDs to grow from 55% to 60% of signage & professional display LED market
Of the more than $1.1bn of packaged LEDs consumed in signage & professional displays in 2008, high-brightness LEDs comprised 55% and will grow 60% in 2013, forecasts ElectroniCast.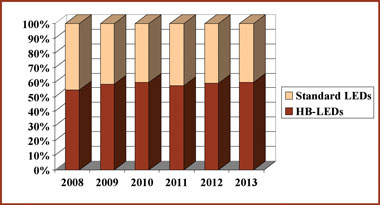 Figure 2: HB-LED versus standard LED market share (%) for signage & professional display applications, 2008-2013.
"LED-based (electronic) billboards allow for multiple advertising messages to share the same sign space, which of course drives additional revenue potential, without the labor of continually replacing traditional vinyl or painted signs," says Montgomery. "LED-based signage and displays enable real-time message delivery, which is critical for public emergency announcements and other useful information," he adds.
LEDs for test/measurement & medical science devices/equipment to grow from $16.9m to $46m
Consumption of packaged LEDs used in test/measurement equipment & medical science (devices/equipment) rose from $13.96m in 2007 to $16.93m in 2008, and will grow to $46.08m in 2013, with strongly rising unit growth partially offset by a continuing decline in average prices, according to a report released by ElectroniCast in April.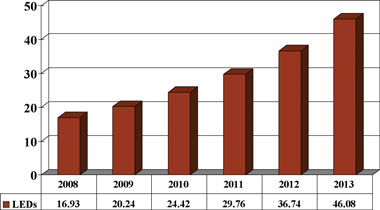 Figure 3: Consumption of LEDs in test/measurement & medical science applications/devices ($m).
Sensing/detection and analytical/monitoring applications in 2008 represented nearly 47% share of worldwide consumption of LEDs used in the selected test/measurement equipment & medical science devices/equipment. LEDs used in phototherapy/sanitation (such as water sanitation)/cell regeneration devices/equipment are forecasted to increase in value to $16.95m in 2013.
N.B. Consumption values are based on packaged single- and multiple-chip packaged (single-bulb and multiple-chip/bulb single package) LEDs, before placement into the second-level product (board, device, mounting, device, etc).
See related item:
LED market still on target to exceed $33bn by 2013

Search: White HB-LEDs
Visit: www.electronicast.com