News
20 November 2009
Nitronex adds director of sales & business development for Asia-Pacific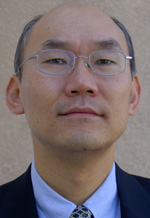 Nitronex Corp of Durham, NC, USA, which designs and manufactures gallium nitride on silicon (GaN-on-Si) RF power transistors for defense, communications, and industrial & scientific markets, has named Edwin Chen as director of sales & business development for the Asia-Pacific (APAC) region.
Picture: Edwin Chen.
Chen has over 15 years experience in mobile and broadband communications, as well as in infrastructure base-station sales and business development. He also has 10 years of experience in leading field sales, technical resources and channel partner teams in the Asia-Pacific region, as well as a Bachelors Degree in Electronics Engineering from the University of Melbourne, Australia and an executive MBA from the University of Southern California.
Nitronex is aiming to expand existing business and to enter into new business markets in the Asia Pacific. Chen highlights partnering with the Asia Pacific teams of distributor Richardson Electronics Ltd of La Fox near Chicago, IL, USA (in October 2007, Nitronex expanded its distribution partnership with Richardson to include the Americas and all of Asia). "Nitronex will leverage their local expertise, market knowledge and established account relationships to continue Nitronex business growth in the Asia Pacific region," he adds.
Chen was most recently senior director at Pulse~LINK, where he managed the sales & business development activities in introducing Pulse~LINK CWave high-definition TV home-networking solutions to the Korean and Chinese markets. He has also held senior sales & business development positions at Cygnus Communications and Conexant Systems.
"Edwin has a proven track record of developing strategic sales strategies and delivering results in the Asia Pacific geography," Gary Blackington, Nitronex's VP of sales. "His experience in developing business and building strong channel partner organizations will help Nitronex drive its market share and build strong customer relationships," he believes.

Search: Nitronex GaN GaN-on-Si RF power transistors
Visit: www.nitronex.com