News
30 October 2009
Aixtron's 45% quarterly growth driven by TV backlighting
For third-quarter 2009, deposition equipment maker Aixtron AG of Aachen, Germany has reported revenue of €82m, up 45% on €56.7m last quarter and 28% on €63.9m a year ago (and just less than Q4/2008's record of €82.3m).
"We continue to see very healthy demand for our systems, driven by an exceptionally positive response by consumers to the introduction of TV LED backlighting," says president & CEO Paul Hyland.
Earnings before interest and taxes (EBIT) more than doubled to €16.7m (a 20% margin), rising 255% from €4.7m (8% margin) last quarter. Net profit was €11.6m, up from €3.3m last quarter. With free cash flow up from just €8m last quarter to €27.3m, cash & cash equivalents (including cash deposits) rose from €84.4m to €111.1m.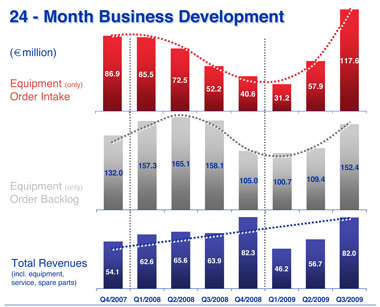 In Q3, equipment order intake more than doubled last quarter's €57.9m to a record €117.6m, boosting backlog from €109.4m to €152.4m. Of this, 98% is for compound semiconductor systems (as the ongoing memory market slump led to silicon system order intake remaining very low). Aixtron expects about €88m to be shippable for conversion into revenue by the end of fourth-quarter 2009, adding to expected spares & non-equipment revenue of €7m in Q4.
Together with €184.9m in total revenue from Q1-Q3/2009 (down just 4% year-on-year, despite the intervening economic turmoil), Aixtron has hence raised its full-year 2009 revenue guidance for the second time this year, from €230-250m to €280m (up 27-40% on the initial guidance of €200-220m, and outstripping 2008's revenue of €274.4m). EBIT margin guidance has been raised from 12-13% to 18% (compared to the initial guidance of 10-11%).
Compared to 2008 (in which 53% of revenue came from the second half), 60% of 2009's revenue will come from the second half. "Encouragingly, order and quotation activities are still continuing at a very high level, and this trend seems set to continue into 2010," says Hyland.
Aixtron believes that, to fund accelerated growth over the next few years, a further strengthening of its capital base is essential. The executive board has therefore agreed, with the consent of the supervisory board, to increase issue up to 8,979,937 new shares (9.8% of its current share capital). The proceeds will be used to: strengthen the balance sheet; support higher capital spending and additional working capital in an accelerated growth market with shorter product cycles; consider potential strategic investments; and accelerate the adoption of HB-LED applications.
Aixtron says that it has already confirmed its capability of delivering up to 100 deposition systems per quarter very soon. Hyland adds that, to prepare for its next stage of development, the firm has already started recruiting what is expected to be a total of up to 100 new engineers within the next 12 months.
See related items:
Aixtron lifts sales guidance on LED market recovery
Aixtron sales fall 44% in Q1/2009
Aixtron's growth in Q4/2008 driven by Asian LED manufacturing

Search: Aixtron MOCVD LEDs LED backlighting
Visit: www.aixtron.com