News
9 October 2009
Anadigics opens in Tokyo
GaAs power amplifier manufacturer Anadigics Inc of Warren, NJ, USA says it is opening an office in Tokyo, Japan, to support its local customers and develop market opportunities within the local manufacturing community.
"Anadigics is tremendously excited to announce the opening of an office in Tokyo which, under the leadership of new country manager, Mr. [Makato] Takaoka, will enable us to better serve our Japanese customers. This new sales office will provide greater depth of support by offering local RF applications support and expertise for new platforms that rely on Anadigics ' high performance wireless and broadband products," said Michael Canonico, Anadigics' VP of Worldwide Sales.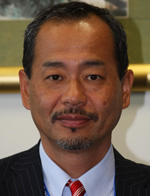 With more than 25 years of Japanese market experience, Takaoka has previously held senior sales positions at ST-Ericsson Japan, NXP Semiconductor Japan, Philips Electronics Japan and Fujitsu Components Japan and overseas.
Picture: Makato Takaoka.
Takaoka said: "The establishment of a dedicated Japanese office signifies Anadigics' commitment to the Japanese marketplace, which has a rich history of wireless and broadband innovation. Japan originally offered wireless Internet through NTT DoCoMo's i-mode as early as 1999, and today we are one of the countries most committed to WiMAX service rollouts through UQ Communications. Anadigics is now very well positioned to build on existing customer relationships while developing new opportunities for growth."
Anadigics' new Japan office is located at: Shinjuku Park Tower, N30th Floor, 3-7-1 , Shinjuku, Tokyo 163-1030, Japan. Tel: +81.3 5326 3053
See related item:
Samsung helps Anadigics to revenue gain
Visit: www.anadigics.com