News
2 October 2009
QD Laser claims first quantum dot pure-green laser source module
In collaboration with professor Yasuhiko Arakawa (head of the University of Tokyo's Institute for Nano Quantum Information Electronics), Tokyo-based QD Laser Inc has developed what it claims is the first green laser using quantum dot (QD) semiconductor crystals (to be exhibited at next week's CEATEC JAPAN 2009 event in Chiba).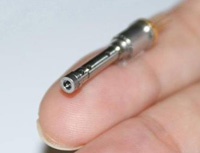 With a compact 5.6mm diameter (Figure 1) as well as the capability of low power consumption by operating at up to 60°C without the need for cooling, the QD green laser suits use in mobile projectors that can be mounted on cell phones or laptop PCs, says the firm.
Figure 1: First quantum dot green laser.
There is currently great demand for low-power-consumption, compact projector sources that can be mounted on mobile devices, such as cell phones and laptop PCs. But using an LED light source requires the projector to be refocused each time the distance to the screen changes. In contrast, using a laser enables focus-free operation, as well as reduced power consumption (key for use in battery-operated devices).
For a focus-free compact mobile projector, three lasers (red, blue, and green) are needed. However, until now, a green laser had not existed that combines the features of being compact (for practical use) with low power consumption, as well as allowing mass production at a lower cost.
QD Laser has now applied distributed feedback (DFB) laser technology - commonly used in high-reliability optical communications - to create a quantum dot laser with a wavelength of 1064nm. The beam of photons is subsequently filtered through a nonlinear optical crystal in which the process of second-harmonic generation (SHG) leads to two photons being re-emitted as one photon with twice the energy (i.e. frequency) and hence half the wavelength (532nm).
The 1064nm quantum dot laser converts electricity to light very efficient, resulting in a reduction in power consumption, claims the firm. Also, by adopting DFB technology, which has been field proven in optical communications products, QD Laser says that it has simplified the structure for stable optical coupling to SHG (a complicated process that so far has required complex control mechanisms). In addition, because the quantum dot green laser can be produced on a gallium arsenide substrate, it is cost-competitive with alternative technologies, it is reckoned.
Because the quantum dot green laser can operate at 2V DC at temperatures up to 60°C without cooling and can be packaged in a 5.6mm-diameter TO-56 can (a generic package for laser diodes), QD Laser says that it meets the optimal power consumption and dimension requirements for a compact mobile projector.
Also, because it enables high-speed video modulation of 500MHz or higher, it enables display of HDTV-class images even in compact mobile projectors. By combining the quantum dot laser with a red-green-blue (RGB) laser source that is already equipped with red and blue lasers, along with a micro-electro-mechanical systems (MEMS) scanner (Figure 2), ultra-small size and large screen size as well as low power consumption can be realized, it is claimed.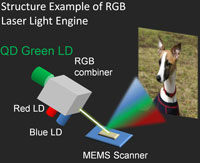 According to Insight Media, the compact mobile projector market should reach 32 million units in 2012. In addition to compact mobile projectors, expected applications include head-mounted displays and head-up displays for automobiles.
Figure 2: Structure of QD green laser and example application.
QD Laser says that it will start shipping samples of the laser source module in December, and aims to launch commercial products in mid-2010.
See related items:
New angle on approach to green lasers
QD Laser raises ¥700m to ramp production

Search: QD Laser Quantum dot green laser
Visit: www.qdlaser.com