News
26 October 2009
SoloPower recruits VP of product development and general manager of sales
SoloPower Inc of San Jose, CA, USA, which makes thin-film photovoltaic (PV) cells and modules based on copper indium gallium diselenide (CIGS), has made two strategic additions to its team: Arthur Rudin (VP of product development) and Robert Muhn (general manager of sales).
"Arthur and Robert both will play instrumental roles as SoloPower nears high-volume manufacturing and commercialization in 2010," says interim CEO Lou DiNardo. In mid-September, SoloPower raised almost $200m in venture capital to ramp up manufacturing at a 100MW-per-year plant (using a roll-to-roll process that layers CIGS cells onto a flexible substrate by electroplating rather than the sputtering). "Arthur possesses product technical expertise and Robert is a proven success in developing global solar markets," he adds.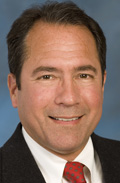 Rudin will draw on his 30 years of photovoltaic industry experience to guide the next stage of SoloPower's CIGS product development.
Picture: Arthur Rudin.
Previously, after Rudin earning a BS in Electrical Engineering from Northeastern University and attending Arizona State University (where he received a certificate of achievement in direct energy conversion), Rudin started his career at Shell Solar Industries (formerly Siemens Solar and ARCO Solar). He was subsequently director of engineering at the Solar Energy Solutions Group of SHARP Electronics Corp and VP of product development and systems engineering at Solar Integrated Technologies (a subsidiary of Energy Conversion Devices).
Throughout his career, Rudin has been involved in standards development for the photovoltaic industry through his involvement with the US National Renewable Energy Laboratory and the Institute of Electrical and Electronic Engineers. He has also held positions with the National Electric Code committee at Sandia National Laboratory, the North American Board of Certified Energy Practitioners, SolarTech Committee, and the PV Assistance Center Board.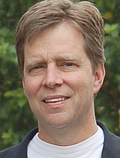 Muhn joins SoloPower from Kyocera Solar, where he was responsible for sales to the grid-connected, off-grid industrial and rural electrification markets in the Americas and Australia.
Picture: Robert Muhn.
Previously, after earning a BS in Engineering from the University of Colorado and an MBA from Pepperdine University, he worked at AstroPower, where he implemented a global sales strategy and co-managed a manufacturing and sales joint venture with Atersa in Spain. Muhn also worked for Siemens Solar/ARCO Solar, where he delivered several new products to market and oversaw the its Latin America business operations. He also served as a subcontractor to Sandia National Labs and the US Department of Energy, developing programs focused on productive uses of renewable energies in developing countries.
Visit: www.SoloPower.com