News
16 September 2009
CIP launches uncooled coax reflective SOA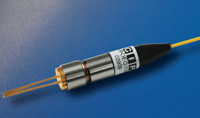 CIP Technologies of Martlesham Heath, Ipswich, UK (which manufactures photonic hybrid integrated circuits and indium phosphide-based optoelectronic chips, devices, arrays and modules) has announced a new addition to its range of semiconductor optical amplifiers (SOAs).
Picture: CIP's reflective SOA coaxially packaged in a pigtailed TO-56 can.
The firm claims that, for the first time, a high-signal-gain reflective SOA coaxially packaged in a pigtailed TO-56 can is capable of uncooled operation over an extended temperature range, making it suitable for a broad range of applications including sensor networks and WDM-PONs (wavelength division multiplexing passive optical networks).
The SOA-R-OEC-1550-CO uses CIP's proprietary buried InP heterostructure design and offers over 20dB of signal gain across the C-band at temperatures up to 70ºC. The device is a pigtailed coaxial design, and incorporates a monitor photodiode.
"CIP already offers uncooled reflective SOAs in TO-can packages for use in Bi-Di modules, but our customers have also been asking for a convenient pigtailed package suitable for early evaluation of WDM-PON architectures," says SOA product manager Dr Ian Lealman. "In this configuration, the product is also proving to be an ideal source in a range of fiber-optic sensor networks," he adds.
See related item:
CIP launches hybrid integrated SOA/MZI dual-channel 2R regenerator for 100Gb/s

Search: CIP Technologies InP SOAs
Visit: www.ciphotonics.com