News
14 September 2009
Luminus launches multi-color LED for entertainment & architectural lighting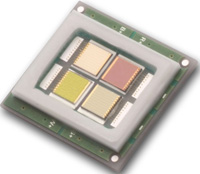 Luminus Devices Inc of Billerica, MA, which makes solid-state light sources for illumination applications (including high-definition TVs, video projectors, avionics displays, and lighting systems), has made available samples of the SBM-160 PhlatLight LED (for volume shipments starting in November).
The firm claims that the new device is the brightest multi-color LED available in a surface-mount (SMT) package, suiting entertainment and architectural applications where high optical output and high efficiency are required.
The SBM-160 is a four-chip package consisting of individually addressable red, green, blue and white LEDs that generate more than 1500 lumens of combined white light: 250+lm in red, 570+lm in green, 100+lm in blue and 700+lm in daylight white (6500K).
The large, multi-chip design has a total emitting surface area of 16mm2. The optical source window of just 4mm x 4mm helps to eliminate the color shadowing and color mixing challenges that lighting designers typically face, says Luminus. The total footprint is only 10mm x 11mm.
The high-thermal-conductivity package uses a high-performance ceramic substrate, resulting in thermal resistance of less than 1.5C/W per die. A protective window covers the chips, which emit directly into air, allowing for proximity optics that optimize collection efficiency and eliminate unwanted color fringing.
With separate, isolated four-channel control, a single SBM-160 module can replace multiple 1W emitters and multi-color LED arrays, says Peter Weller, general manager for Luminus' lighting business. "We have reduced design complexity and cost, enabling new dimensions of design freedom," he adds.
Luminus says that the SBM-160 integrates seamlessly with standard SMT manufacturing processes and equipment. The firm adds that its PhlatLight (Photonic Lattice) LEDs are mercury-free and provide a lifetime of 60,000 hours with lumen maintenance of greater than 70%.
Visit: www.luminus.com