News
11 September 2009
Osram launches compact LEDs for daytime running lights in mid-range vehicles
Osram Opto Semiconductors GmbH of Regensburg, Germany has launched the OSLON MX ECE and OSLON SX ECE LEDs – low-cost, high-power ceramic components designed for use in daytime running lights in the front light clusters of mid-range vehicles. The firm says that the new LEDs are a key new addition to its automotive lighting portfolio, which consists of millions of LEDs currently in use in the rear light clusters, brake lights and daytime running lights of vehicles on the road.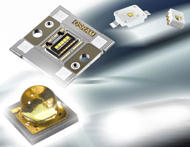 The MX ECE and its lower-power sister component, the SX ECE, are positioned between Osram's Advanced Power TopLED and Golden DRAGON, supplementing the range in terms of both performance and price. Both LEDs address the increasing acceptance of daytime running lights outside the luxury and top-of-the-line automotive markets.
Picture: Osram's OSLON MX ECE LED.
Both LEDs are compact (3mm x 3mm) and use Osram's latest ThinGan chip technology. The MX ECE is manufactured as a 1W component, providing light output of 70-95lm, and can be operated at temperatures up to 150°C. The 0.5W SX ECE has the same dimensions and thermal stability as the MX, but with light output of 40-60lm. The small dimensions enable both LEDs to be integrated into compact, low-profile designs.
"The OSLON MX ECE and the OSLON SX ECE are tailor-made to meet the demands of the automotive industry," says Mike Godwin, director of Visible LEDs at Osram Opto's North America subsidiary Osram Opto Semiconductors Inc in Santa Clara, CA, USA. "Both these ceramic components are ideal for daytime running light (DRL) applications," he adds. "They can be installed in headlight systems or incorporated in fenders as individual lights."
In addition to the two new models in the OSLON series, Osram currently offers a portfolio of LEDs for the automotive sector that includes light sources in various versions and performance classes to meet different requirements – from the Advanced Power TopLED for daytime running lights to the OSTAR Headlamp for low- and high-beam headlights. The range fully covers the brightness range from 25lm to 1000lm.

Search: Osram Opto Daytime running lights Automotive LEDs
Visit: www.osram-os.com