News
30 September 2009
Osram LEDs light way ahead for VW concept car
At last week's Frankfurt International Motor Show (IAA) in Germany, Volkswagen presented its L1 1-litre diesel-electric hybrid concept car (for possible production in 2013), which is built of aluminum and carbon fiber, weighs just 380kg, and has fuel consumption of 189 miles per gallon. In particular, the LI has front headlights equipped with new Joule JFL2 LED modules (developed by Germany's Osram Automotive Lighting in collaboration with LED maker Osram Opto Semiconductors GmbH) plus matching reflectors designed by Volkswagen (enabling legally compliant headlights to be implemented).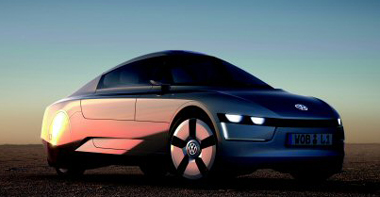 Picture: VW's L1 concept car.
Dimmable LED light sources provide both the dipped and main beam functions and consume far less energy than conventional headlamps, Osram says. Each headlight (which is only 5cm high) has three Joule JFL2 LED modules: two provide the main low or dipped beam - compliant with the Economic Commission for Europe (ECE) - and one provides the high beam.
"Compact and efficient LED sources will be mandatory for low-consumption and electric vehicles in the future in order to achieve the car industry's CO2 objectives," says Thomas Reiners, Osram's director of Application Technology for special lighting. "A dipped-beam headlight with these light sources will use less than 15W and therefore save 40W of power input per vehicle side compared with a halogen solution," he adds.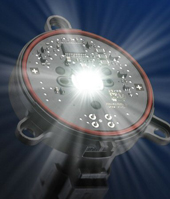 With a power input of only 19W per dipped beam, the car's lighting is far more energy efficient than conventional headlights, in which mostly 55W halogen lamps are used, says Osram. Even xenon lamps (with an input of just 35W) use 20% more energy on dipped lights (95% of night-time driving) than two Joule JFL2 LED modules.
Picture: LEDs in the L1's
headlamp.
"Energy efficiency and ease of integration were good reasons to rely on LED solutions for headlights," says Volkswagen lighting engineer Henning Kiel. "They can bring about significant benefits both for end customers as well as during headlamp and vehicle production," adds Christian Meier, Osram product manager Joule LED systems.
With a lifetime that normally exceeds that of a vehicle plus considerable robustness against shocks and vibration, LED-based lamps are far less maintenance intensive than conventional lamps, Osram claims. Joule JFL2 LED modules will be introduced in production for other vehicles in early 2010 and can then be included in new vehicle models across multiple platforms.

Search: Osram Opto Automotive LEDs
Visit: www.osram-os.com