News
21 September 2009
Sumitomo Electric unveils 40GbE transceiver module for 10km transmission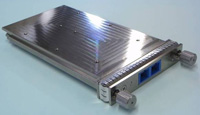 At the 35th European Conference and Exhibition on Optical Communication (ECOC 2009), Tokyo-based optical component, module and subsystem maker Sumitomo Electric Industries Ltd (SEI) is expanding its optical transceiver portfolio with the introduction of what it claims is the first 40 Gigabit Ethernet (40GbE) CFP transceiver module for 10km transmission.
Picture: SEI's 40GbE CFP transceiver for 10km transmission.
The transceiver complies with the 40GbE standard under discussion by the IEEE802 committee, which has been working on the next-generation standard of 40 and 100 Gigabit Ethernet in order to respond to the anticipated shortage of transmission capacity in 2010 due to the rapid growth of Internet services.
In parallel, Sumitomo Electric - together with fellow optical component, module and subsystem makers Finisar Corp of Sunnyvale, CA, USA, Opnext Inc of Eatontown, NJ, USA - established the multi-source agreement (MSA) for the next-generation CFP form factor, which was announced in late March at the Optical Fiber Communication Conference and Exposition (OFC 2009) in San Diego.
To meet these demands, Sumitomo Electric developed the 40GbE CFP transceiver for 10km transmission by using a high-speed four-wavelength CWDM laser diode, through the application of its own low-power-consumption drive technology and high-density mounting technology.
Sumitomo Electric has started shipping 40G CFP samples. Mass production is planned for second-quarter 2010 at subsidiary Sumitomo Electric Device Innovations.

Search: Sumitomo Electric Ethernet CFP transceiver module
Visit: http://global-sei.com