News
14 September 2009
Skyworks secures multiple EDGE and next-gen WCDMA smart-phone design wins at Samsung
Skyworks Solutions Inc of Woburn, MA, USA, which manufactures linear products, power amplifiers, front-end modules and radio solutions for handset and infrastructure equipment, says that Samsung is using both quad-band GSM/EDGE and next-generation WCDMA front-end solutions to power new 3G smart phones, including the Pixon12 (the world's first 12 megapixel touch-screen camera phone).
Skyworks has also secured EDGE and WCDMA power amplifier design wins for more than 15 further Samsung smart phones currently in production. These new models include: the GT-I8000 Omnia2 (featuring a vast AMOLED touch-screen); the GT-S8000 (Samsung's first Android phone); the GT-M6710, or new Beat Disc Edition handset; the GT-M7600 Beat DJ (the only mobile phone with music playback software); and the GT-S5600 touch-screen phone.
The SKY77186 (1920-1980MHz), the SKY77187 (1850-1910MHz), the SKY77188 (824-849MHz), and the SKY77189 (880-915MHz) power amplifier modules (PAMs) are fully matched 10-pad surface-mount 3mm x 3mm devices developed for next-generation WCDMA applications in a single compact package. The firm claims that the small and efficient modules deliver talk-time advantages due to the high efficiencies attained throughout the entire power range. They also meet the stringent spectral linearity requirements of high-speed downlink packet access (HSDPA) data transmission with high power-added efficiency (PAE), the firm adds. In addition, a directional coupler is integrated into the modules, eliminating the need for any external coupler.
The SKY77336 PAM is designed in a compact form factor for quad-band cellular handsets including GSM850/900, DCS1800 and PCS1900, supporting gaussian minimum shift keying (GSMK) and polar enhanced data for GSM evolution (EDGE) modulation. Class 12 general packet radio service (GPRS) multi-slot operation is also supported, with lead (Pb)-free, restriction of hazardous substances (RoHS) compliant packaging.
"Skyworks is pleased to be further expanding its relationship with Samsung, particularly as they develop innovative platforms to support growing consumer demand for high-end smart phones with touch-screen and camera capability," says Liam K. Griffin, senior VP of sales & marketing. "The Samsung design wins, among others, not only demonstrate Skyworks' ability to capitalize on the three-fold increase in content in today's multimode phones, but also highlights Skyworks' ability to deliver high-performance, cost-effective solutions to the industry's top-tier handset OEMs."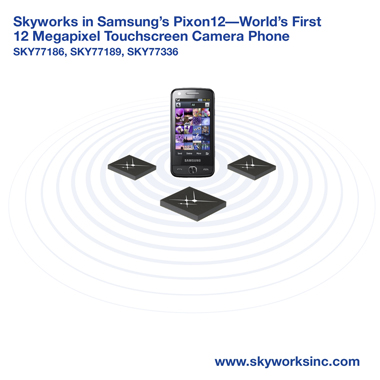 See related items:
Skyworks secures Samsung design wins for over 10 multimode handset platforms
Skyworks' FEMs and PAs support Samsung's latest GPRS, EDGE and 3G handsets

Search: Skyworks Samsung PAs EDGE WCDMA
Visit: www.skyworksinc.com