News
23 April 2010
Anadigics celebrates 25th anniversary by ringing NASDAQ closing bell
Broadband wireless and wireline communications component maker Anadigics Inc of Warren, NJ, USA celebrated its 25th anniversary yesterday by ringing the closing bell at the NASDAQ Stock Market.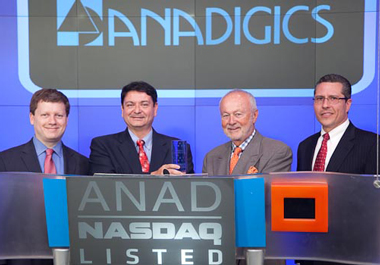 Picture: Anadigics' president & CEO Mario Rivas (second from left) presiding over the NASDAQ closing bell.
Founded in 1985, Anadigics has built its reputation on designing and manufacturing high-performance radio frequency integrated circuit (RFICs) technology. The firm says that it has latterly focused on enabling the telecoms industry's move into fourth-generation (4G) technologies by delivering RFICs that significantly improve product design and functionality for wireless communications. The company also provides technology for broadband and cable television (CATV) applications.
Milestones for Anadigics over the last 25 years include the following:
1985: Founded by Ron Rosenzweig, George Gilbert and Charles Huang, producing 3-inch GaAs wafers for use in RFICs designed primarily for military applications, direct satellite broadcasting, and later the cable TV market.
1988: First patent issued, for current bleeder amplifiers with positive feedback.
1993: The first GaAs IC manufacturer to achieve ISO certification (ISO9001).
1995: Becomes a publicly traded company on the NASDAQ stock market.
1997: Designs and manufactures the first commercial dual-band, dual-model GaAs power amplifier for the cellular and PCS market.
1999: Opens first industry's 6-inch analog GaAs wafer fab.
1999: Manufactures the first indium gallium phosphide (InGaP) heterojunction bipolar transistor (HBT) technology on 6-inch wafers to be used in products for cellular and PCS handsets.
2004: Development of InGaP-Plus, the first low-cost manufacturable GaAs-based BiFET (bipolar field-effect transistor) process, monolithically integrating two types of transistors on the same chipset (enabling high-volume production of commercial MMICs at low cost).
2005: Surpasses the 25 million mark in shipping InGaP HBT power amplifiers for LAN applications.
"Customers continue to raise the bar in terms of product innovation, new applications, and high-speed, reliable connectivity, and we will continue to rise to the occasion, delivering quality products to market with the right performance at the right time," comments president & CEO Mario Rivas.
See related items:
Anadigics' sales rise 13.9% in Q4/2009
Anadigics upbeat on future wireless markets
Samsung helps Anadigics to revenue gain
Visit: www.anadigics.com