News
14 April 2010
Samsonite to integrate Ascent's CIGS PV modules into carrying cases
Ascent Solar Technologies Inc of Thornton, CO, USA says that its lightweight flexible copper indium gallium diselenide (CIGS) thin-film photovoltaic modules have been selected by luggage maker Samsonite for integration into its new line of solar consumer products being initially rolled out this summer.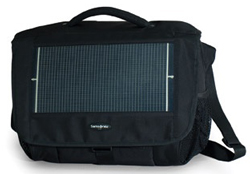 The two firms have been working together throughout product development, and the announcement symbolizes the progress made to incorporate portable power into an everyday product, they add.
"As our lives depend more and more on mobile electronics and the need to power and carry such devices, we believe that integrating solar panels into our carrying case solutions will be a game changer in the industry," says Samsonite's VP sales & marketing Lynne Berard. "By utilizing the unique, flexible, lightweight, rugged and subtle modules from Ascent Solar, we are able to provide our customers with power on the go, while not compromising our stringent standards for quality and style," she adds.
"Our selection by Samsonite gives Ascent Solar a clear path to market with solar integrated consumer products and establishes Ascent as a solar technology solution provider that can meet the needs of consumers demanding a rugged and lightweight portable way to power their electronics," says Ascent's president & CEO Farhad Moghadam. "Our goal is to enable and lead a new wave of portable solar charging solutions through Samsonite that will revolutionize the way we power our electronics anywhere and everywhere."

Search: Ascent Solar CIGS thin-film PV modules
Visit: www.AscentSolar.com