News
8 April 2010
Avago introduces pair of 1-Watt PAs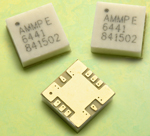 Avago Technologies, which designs and supplies analog semiconductor devices (with a focus on III-V based products), has introduced a pair of 1-Watt power amplifiers (PAs) for use in millimeter wave (mmW) communication transmitters that operate at frequencies between 37 and 40GHz.
The AMMP-6442 monolithic microwave IC (MMIC) is a linear PA offered in a 5 x 5 mm surface mount (SMT) package, while the AMMC-6442 is a MMIC die. Typical applications include Point-to-Point and Point-to-Multi-Point radio systems, and mmW communication applications.

Both the AMMP-6442 and AMMC-6442 PAs provide 30dBm of typical output power and 23dB of typical small-signal gain. These MMICs are suitable for high linear applications and have 35dBM of output third order intercept point making them ideal for use as last stage power amplifiers in systems that require increased linearity for high data rate transmission, says the firm.

Features:
Frequency range: 37 to 40GHz
1 Watt P1dB output power
35dBm OIP3 for high linearity
50 ohm matched on input and output
ESD protection (50V MM and 250V HBM)
Samples and production quantities are available now.

Search: Avago 1-Watt PAs MMIC
Visit: www.avagotechwireless.com