News
7 April 2010
Cree claims widest viewing angle for new RGB oval LEDs for outdoor video screens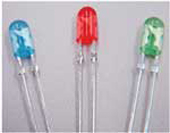 LED chip, lamp and lighting fixture maker Cree Inc of Durham, NC, USA has announced commercial availability of the new C4SMK family of red, green and blue 4mm oval LEDs.
The additions to the Screen Master Cree LED series deliver what is claimed to be the widest viewing angles available on the market along with tightly matched radiation patterns for video screen applications.
The blue and green C4SMK 4mm LEDs offer a viewing angle of 115° in the horizontal axis and 65° in the vertical axis, while the red C4SMK 4mm LED has a viewing angle of 110° in the horizontal axis and 60° in the vertical axis, as is customary in the industry.
"These new high-brightness LEDs can enable video screen manufacturers to deliver an even better viewing experience for their customers," says Paul Thieken, Cree's director of marketing, LED Components.
Visit: www.cree.com