News
8 April 2010
CTT launches 1–18GHz LNA covering more than four octaves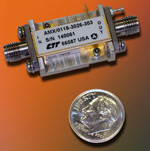 CTT Inc of Sunnyvale, CA, USA, which designs and manufactures GaAs and GaN-based solid-state microwave amplifiers and subassemblies for defense electronics and commercial communications markets, has launched a compact low-noise amplifier (LNA) offering noise figures of less than 2.5dB (typical) over an instantaneous bandwidth of more than four octaves (1–18GHz).
The new LNA will find use in a wide range of RF and microwave applications including radar imaging and spread-spectrum, as well as ultra-wide bandwidth applications including the related instrumentation for each.
The AMX/0118-3026 is based on GaAs pHEMT technology with input and output impedance matching, and is available as a drop-in package or with SMA connectors.
In addition, the new LNA's 'automated friendly' design increases consistency of performance, making design-in more cost effective for system designers and manufacturers alike, says the firm.
CTT will be exhibiting the new LNA at the 2010 IEEE MTT-S International Microwave Symposium in Anaheim, CA, USA (23–28 May).

Search: LNA GaAs pHEMT
Visit: www.cttinc.com