News
6 April 2010
LED linear tube lamp market to grow at 85% to 2016
In terms of volume (number of units), the global consumption of LED-based linear tube lamps — which are used in new construction, retrofitting of existing (installed-based) and as a replacement for fluorescent linear lamps (tubes) — will increase at a dramatic average annual growth rate of 85% from 2009 to 2016, according to a new report from market research firm ElectroniCast Consultants.
The market is segmented into the following major application categories: government interior lighting; government exterior lighting, plus signage; commercial/industrial lighting (interior and exterior); professional display & signage; mass-transit and other vehicles; and residential.
The report provides an examination and analysis of the changing market dynamics for two major types of LED-based linear tube lamps, segmented by length (less than 4 feet and 4 feet or longer) and by technology (DIP and SMD LED linear tube lamps).
Of the total number of LED linear tube lamps sold in 2009, 19% were SMD-based of 120cm or longer; 11% were SMD-based of less than 120cm; 20% were DIP tube lamps of less than 120cm; and 50% were the longer DIP linear tube lamps.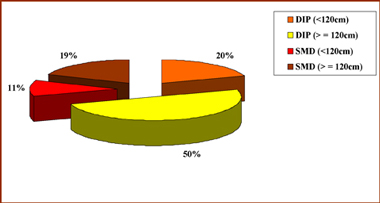 Chart: LED linear tube lamp market in 2009, by technology type and length.
According to ElectroniCast, the automatic assembly & test manufacturing process for the surface-mount device (SMD) LED linear tube lamps allows mass-production capability. In addition, over the next few years, the average selling prices (ASPs) of LED-based linear tube lamps will be driven lower, as a result of production efficiencies, yield-number improvements (aided by quality controls), competition (both market competition and technological competition), marketing/sales distribution improvements, and other factors.
"Over the next seven years, it will become apparent that it will take less LEDs per lamp to provide more brightness, at a lower average selling price per lamp," says Stephen Montgomery, president of International business at ElectroniCast. "During the forecast period (2009–2016), as the use of the component-level bulbs increases, as the competition intensifies, as the consumer awareness increases, as the automatic test & assembly (the manufacturing processes) of the piece-parts and higher-level components improves, the road will be paved for lower-price LEDs with a higher lumen/Watt rating to be use in the LED linear tube lamp," he adds. "Therefore, the timeframe of 2009–2016 will be the launching pad for this particular LED lamp. The worldwide LED linear tube lamp marketplace is forecasted to increase in consumption value (in dollars) at an average annual growth rate of nearly 71%."

Search: LEDs
Visit: www.electronicast.com