News
6 April 2010
EMEA gaining on Americas and Asia Pacific in PLC market
According to the new 266-page report by ElectroniCast Consultants on the global market consumption of and technology trends of planar waveguide circuits (PWCs) — also referred to as planar lightwave circuits (PLCs) — the American region (North, Central and South America) and the Asia Pacific region are forecasted to stay relatively close in value throughout 2009–2014, while Europe, Middle East and Africa (EMEA) will remain in a distant third place in market share but growing at a faster pace.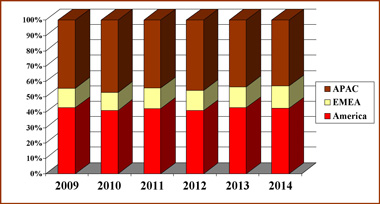 Picture: Regional market share (%) of PWCs used in optical communications, based on consumption value.
'Planar Waveguide Circuits Used in Optical Communications Global Market Forecast & Analysis' provides a 2009–2014 forecast of the use of PWCs used in arrayed waveguide gratings (AWGs) devices; photonic switches; variable optical attenuators (VOAs); optical splitters; lithium niobate modulators; interconnect waveguides; other discrete; as well as PWCs used in devices that are capable of two or more functions (integrated multifunction devices).
"Planar lightwave circuits are used in discrete (single-function) devices, as well as a growing menu of integrated devices, which accommodate multiple functions in compact (small footprint), proven and reliable packages; therefore, optical communications will continue to benefit from this product category," says Stephen Montgomery, president of International Business at ElectroniCast.
"Athermal AWGs are providing the avenue needed to push along cost-effective solutions, bringing optical fiber closer to the home and businesses," says Montgomery adds.

Search: Planar waveguide circuits
Visit: www.electronicastconsultants.com