News
9 April 2010
GE unveils 9W LED bulb with output of 40W incandescent that lasts 25 times longer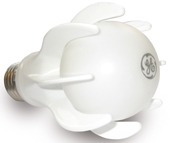 GE Appliances & Lighting of Cleveland, OH, USA is beginning to show customers a 40W-replacement GE Energy Smart LED bulb, which will be available later either this year or early in 2011 at an expected retail price of $40–50.
Picture: The 9W GE Energy Smart LED bulb.
GE Lighting Division's new LED bulb should consume just 9W, yield 77% energy savings, and produce nearly the same light output as either a 10W compact fluorescent lamp (CFL) or a 40W incandescent bulb. However, it should also last 25,000 hours (17 years at 4 hours per day), which is more than 25 times longer than a general-service 40W incandescent or halogen bulb, and more than three times longer than a standard 8000-hour rated life CFL.
The new GE Energy Smart LED bulb is also expected to outperform currently available LED-based products. GE has designed the new bulb to better direct light downward onto the intended surface and all around, not just out the top of a lampshade like most current LED bulbs. The new bulb also offers 450 lumens (which is the Energy Star threshold to be considered a 40W incandescent replacement), in contrast to currently available LED bulbs, which produce 350 lumens or less, GE says.
"Consumers have been reluctant to move away from less efficient incandescent bulbs because they love the light quality," says John Strainic, GE Lighting's global product general manager. "This new GE Energy Smart LED bulb will address that lighting preference head-on and give consumers yet another option to light their homes and businesses."
Also, as a result of new US federal lighting efficiency standards, standard incandescent light bulbs can no longer be made from January 2012 in 100W form, from January 2013 in 75W form, and from January 2014 in 60W and 40W form. GE says that it has alternatives at each step (such as halogen, CFL and LED bulbs) that already meet the new efficiency standards.
GE has filed multiple patent applications on its 9W GE Energy Smart LED bulb, and expects it to be an ENERGY STAR-qualified LED omnidirectional light bulb.
The firm will display prototypes of the bulb—fitted with XLamp XP-G LEDs from Cree Inc of Durham, NC, USA—at the Light + Building 2010 show in Frankfurt, Germany and at LightFair 2010 in Las Vegas, NV, USA. The high-efficiency, high-lumen-output LEDs used in the bulbs are Cree's smallest and brightest lighting-class LEDs, designed specifically for general lighting.
"The introduction of high-quality retrofit light bulbs, like the GE Energy Smart LED bulb, is a key next step in the LED lighting revolution," comments Norbert Hiller, Cree VP & general manager, LED Components.
The new 9W GE Energy Smart LED bulb joins GE's growing family of LED bulbs in a broad range of shapes, wattages and colors, including spot and flood lights (PAR20 & PAR30), ceiling fan bulbs (A15), medium globes (G25), small globes (G16.5), candles (CA10), and night lights (C7).
See related item:
LED market to nearly double to $14.3bn by 2013

Search: GE Lighting LED bulb LEDs Cree XP-G LEDs
Visit: www.gelighting.com