News
6 April 2010
Infinera adds ex-Cisco veteran as VP of architecture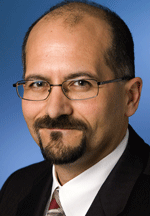 Infinera Corp of Sunnyvale, CA, USA, a vertically integrated manufacturer of digital optical network systems incorporating its own indium phosphide-based photonic integrated circuits (PICs), says that Michael Frendo has joined as vice president of architecture to lead the development and implementation of long-term architectural direction at the firm.
Picture: Michael Frendo.
Frendo joins after a series of senior architectural and engineering roles at companies including Cisco Systems, Juniper Networks, McDATA Corp and Avaya, where he played leading roles in product strategy, direction, and engineering. At Cisco in the 1990s, he played a significant role in that firm's decision and execution of its strategic focus on Internet Protocol technologies, including IP voice and IP video.
"Infinera has world-class technologies in a variety of areas including photonic integration and system design," comments Frendo. "With the disruptive power of photonic integration technology, Infinera has the opportunity to become a major force in this industry," he believes.
"Michael's vision and skills will be a valuable asset as we grow further and develop and broaden the company's product portfolio," adds CEO Tom Fallon.

Search: Infinera
Visit: www.infinera.com