News
30 April 2010
Cree XLamp LEDs mounted on PCBs avaiable from Newark
Newark of Chicago, USA, a multi-channel, high-service electronics distributor in the Americas and part of the global Premier Farnell Group, says it has become one of the first distributors to offer Printed Circuit Boards (PCBs) with Cree XLamp LEDs already mounted on them.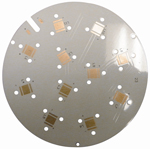 The PCBs are sold under the SPC Technology label, one of Newark's exclusive brands. Cree's lighting class XLamp MC-E, XR-E, XP-C and XP-E LEDs are available on star boards or on round boards, with up to 11 LEDs per board.
"Lighting engineers no longer have to use their valuable time mounting multiple LEDs to a board or lining up a board house to do it for them," says Jeff Uden, VP Product Management, Newark. "We worked with Cree to develop a simple and affordable turnkey solution."
"By offering board-mounted Cree XLamp LEDs, Newark is helping drive the LED lighting revolution," said Mark Despotes, VP Channel Sales, Cree. "This simplifies the design-in process which can shorten the time-to-market for new LED lighting products."
Newark offers a broad portfolio of Cree products from high-brightness LEDs and high-power XLamp LEDs to silicon carbide (SiC) Schottky diodes and gallium nitride (GaN) HEMTs for wireless applications.

Search: Cree XLamp LEDs
Visit: www.newark.com/spc
Visit: www.cree.com