News
22 April 2010
Osram's UX:3 chip boosts OSLUX LED flash from smaller area
Osram Opto Semiconductors GmbH of Regensburg, Germany says that, due to using new UX:3 chip technology coupled with an optimized lens, the latest version of its OSLUX LED for flash applications has an area of just 3.9mm2 and a height of 2.5mm (compared with 3mm previously) and brightness boosted by 50% (from 100 lux to 150 lux) compared with the first-generation OSLUX.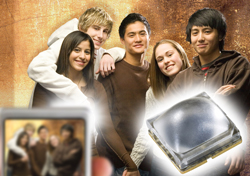 In addition, the light is more evenly distributed over the surface and can illuminate a wider area compared to previous chip technologies. Also, the common dead spot in the center of the illumination area is completely absent.
Osram says that the new UX:3 chip technology makes the LED capable of handling high currents while generating more light from the chip. The new OSLUX is also much more efficient at high currents than previous LEDs and offers high luminous efficacy in a small area, adds the firm.
"OSLUX is perfect for the fast-growing design-based smart phone and cell phone segment," says Gunnar Klick, marketing manager Consumer at Osram Opto. "Even extremely thin phones can now be equipped with a powerful LED flash."
The OSLUX is available with two different lenses that determine the percentage of center brightness (20% or 40%) distributed to the corners of the flash area. At a distance of 1m, the flash uniformly illuminates the subject in a rectangular area (90cm, or about three feet, diagonal), which is sufficient to produce sharp pictures even in low light conditions, says the firm. The selected lens is integrated in the LED and matched to the beam characteristics of the top-emitting UX:3 chips.
Osram says that, with the new OSLUX, its LED portfolio for flash applications is better tailored to meet the demands of mobile and slimline applications requiring small but powerful light sources. Alternatively, for users wishing to supply their own lens packages, Osram also offers the CERAMOS LED, which it claims is one of the brightest lens-free flash LEDs on the market.

Search: Osram Opto LEDs
Visit: www.osram-os.com