News
16 April 2010
Philips launches 60W-replacement LED lamp that consumes just 12W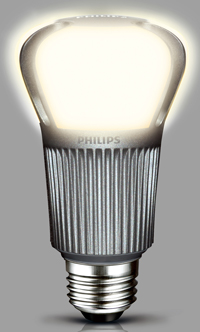 At this week's Light + Building 2010 event in Frankfurt, Germany, Philips launched additions to its portfolio of LED lighting solutions, including what is claimed to be the first 60 watt-equivalent LED replacement lamp, which consumes just 12 watts.
Philips says that it is launching the new lamp as legislation to phase out older, inefficient incandescent lighting technologies in future is increasing demand for replacement light sources.
Picture: Philips will introduce the 60 watt-equivalent lamp globally within its MASTER LEDlamps range towards the end of 2010.
To be launched commercially towards the end of 2010 within its MASTER LEDlamps range (with initial availability in professional sales channels), the dimmable 12-watt bulb will deliver what is claimed to be an industry-benchmark 806 lumens of warm-white light, complying fully with European performance norms for replacement lamps.
For businesses such as hotels, replacing high concentrations of 60W lamps with its LED replacement solution could help to save up to 80% of the energy used by older technologies, or more than €20 per lamp per year, claims Philips, together with lower maintenance costs due to its 25,000-hour lifetime.
Also at Light + Building 2010, Philips is introducing the following technologies:
The Lirio (designed by Philips), Arcitone and Ledino - collections of distinctive, high-design consumer luminaires to match modern interiors, each allowing the design flexibility of LED lighting to be applied to new forms, materials and finishes, and opening up the application of architecture and design in home lighting.
LivingAmbiance – a new approach to mood creation, wirelessly integrating multiple luminaires and lamps in one system using a simple remote control to generate any desired type of ambient lighting in the home, enabling a room to be easily matched to the mood or the occasion.
LED luminaire and control solutions for offices and shops.
New solutions and concepts enabling municipalities to create more livable cities through the adoption of LED street lighting (including improving road and pedestrian safety, reducing night-time light disturbance, and making significant energy savings). During 2010 Philips will introduce a new range of outdoor luminaires – CitySoul, CitySpirit, MileWide and StreetStar – all built around LEDGINE, a future-proofed and fully upgradable platform for outdoor luminaires to maintain pace with progressive improvements in LED technologies. Philips is also exploring the potential of applying LEDs to help 'declutter' city streets increasingly obscured by a variety of elements, including lighting fixtures. At Light + Building 2010, the firm is exhibiting proof-of-concept demonstrations in new street lighting designs, including LED luminaires that render lighting virtually invisible during the day, but still ensure bright, white light at night.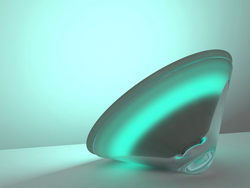 Picture: The new-shape range of LivingColors colored and white light luminaires offers adjustable and dimmable white light for daily activities as well as more possibilities for ambiance creation.
"Urbanization is presenting new challenges for city leaders, and society in general is more environmentally aware," says Rudy Provoost, CEO of Philips Lighting and a member of the board of management of Royal Philips Electronics. "We are applying the functional and creative potential of LED lighting to address these trends."

Search: LEDs
Visit: www.newscenter.philips.com