News
8 April 2010
LED industry entering fast growth stage in 2010
Driven by applications like LED-backlit TVs and solid-state lighting, expansion in LED manufacturing and new facility projects have mushroomed worldwide, according to Clark Tseng (senior manager market analyst, SEMI Taiwan) in SEMI's 'Opto/LED Fab Watch database', which tracks about 180 fabs worldwide (91 LED; 89 opto-related). Japan has the most opto/LED fabs overall, but the regions with the most LED fabs are Taiwan (40%), Japan (23%) and China (22%).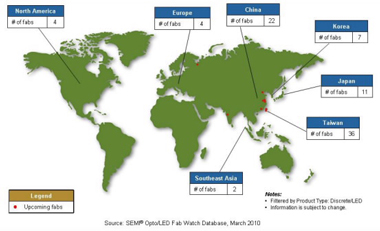 Even in the downturn of 2009, seven new LED fabs came online, while SEMI expects at least five new opto/LED fabs in 2010 and six more in 2011, respectively, mostly in China and Taiwan but also in Japan, India, and Russia too.
While Taiwan has the largest capacity share of LED manufacturing, Epistar and many other Taiwanese LED epitaxy/chip-makers still plan to expand their capacity this year to meet rising demand that is 20–30% above existing LED supply, says Tseng. New MOCVD system additions this year in Taiwan are expected to exceed 100 units. However, the bottleneck and hence lengthening lead-times for MOCVD system delivery may bring uncertainty to capacity expansion plans, says Tseng.
LED chip consumption is being driven by LED-backlit displays, with aggressive investment plans seen recently from leading LCD panel suppliers. In Korea for example, due to strong internal demand for LED-backlit modules, Samsung LED plans its fastest ever LED capacity expansion by installing an extra 50 MOCVD tools, raising its total to an estimated 150 by year-end, reckons Tseng.
On the other hand, Taiwan's LCD panel makers are rapidly moving upstream. AU Optronics' LED subsidiary Lexstar is planning a fast expansion this year after its recent merger with LED packaging firm and fellow AUO subsidiary Lighthouse. Also, New Chimei Innolux Corp will continue its investment along the LED supply chain, where they already have Chi Mei Lighting Technology for epitaxy and GIO Opto and Advanced Optoelectronic Technology for packaging.
These new investments by panel makers are derived from wanting to secure their own supply of key components and also building closer vertical integration along the supply chain. However, this may represent a challenge in the long term to dedicated LED epitaxy/chip-makers, which will be vying for the same market segment with these big LCD panel makers, says Tseng. But SEMI still does not expect to see any oversupply of LEDs in the near future, as LED backlighting is boosted from both the rate of adoption of LEDs in panels and also from the growth of large panel shipments.
The fast-growing LED market has also caught the attention of leading semiconductor firms, notes Tseng. In late March, Taiwan Semiconductor Manufacturing Co Ltd (TSMC), the world's biggest silicon foundry, announced its entry into the LED sector by breaking ground on construction of an LED lighting R&D center and wafer fab in Hsinchu-based Industrial Science Park. Investment in plant and equipment is expected to reach NT$5.5bn ($170m) in the first of two phases (with equipment move-in is scheduled for fourth-quarter 2010 with volume production for first-quarter 2011). This is small relative to TSMC's planned total capital expenditure of $4.8bn this year. However, this brings the LED market to a new level where one may see more large companies or conglomerates entering the sector, says Tseng.
Despite all these new LED investments emerging, leading LED chip maker Nichia of Japan is poised to maintain its leadership in the LED industry, reckons Tseng, since it announced plans to quadruple its LED production with a new fab currently under construction and expected to come on-stream in early 2012.
"We do see some similarity of LED industry compared to the early stage of semiconductor industry," comments Tseng. "The LED industry is set to enter the growth stage of its life cycle," he adds. "Moving forward, we expect to see more global firms enter that LED industry supply chain, and this will help to bring down costs and improve productivity."
See related items:
LED market to reach $14.8bn by 2015
LED market to nearly double to $14.3bn by 2013

Search: LEDs LED-backlit TVs Solid-state lighting
Visit: www.semi.org