News
21 April 2010
SolFocus 235kW CPV plant to provide 28% of Alice Springs Airport's electricity
SolFocus Inc of Mountain View, CA, USA says that its Australian renewable energy development partner Ingenero Pty Ltd of St Lucia, Queensland is to install a 235kW power station using 28 SolFocus 1100S concentrator photovoltaic (CPV) arrays to provide solar power at Alice Springs Airport in the Northern Territory of Australia. The power station will deliver about 600MW-hrs of electricity directly to the airport's internal electricity grid (about 28% of its demand and equivalent to the power used in about 70 homes in Alice Springs).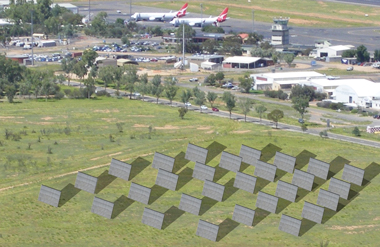 Picture: Conceptual rendering of 28 SolFocus systems to be installed at Alice Springs Airport.
"Alice Springs is the ideal location for CPV technology, and Ingenero is proud to be able to bring SolFocus technology to Australia for the first time," says Rodger Whitby, Ingenero's general manager of Generation.
Under the Australian government's AUS$94m Solar Cities program, the project will receive $1.132m from the Australian government (about half of the total project cost). The power station will be located near the Alice Springs Airport terminal, and should reduce the airport's carbon emissions by about 470 ton of carbon dioxide per year. Construction is expected to be complete by the end of third-quarter 2010.
"As a major electricity user in Alice Springs, this project is an ideal way to demonstrate our commitment to harnessing the benefits of renewable energy," says Ian Kew, CEO of Northern Territory Airports. "The SolFocus advanced CPV technology provides the potential for reduction of power costs within the next few years," he adds.
"The Alice Springs Airport solar project is paving the way for SolFocus CPV technology in Australia and will demonstrate how scalable CPV technology can deliver unrivalled energy output in hot, sunny regions with less impact on the surrounding environment than standard solar panels," says SolFocus' chief technology officer Steve Horne.
Australia's solar energy consumption represented 0.1% of the country's total primary energy consumption for 2007–2008, with solar thermal water heating being the predominant form of solar energy use to date (according to March's report 'The Australian Energy Resource Assessment'). "This pioneering solar project at Alice Springs Airport is just the beginning of a solar transformation in Australia that will harness the continent's abundant sunlight to deliver low-cost, renewable energy," adds SolFocus' president & CEO Mark Crowley. "SolFocus is optimistic about Australia's solar market and is confident that CPV technology is well-matched with Australia's territories and dynamic environment."
SolFocus' CPV design uses a system of patented reflective optics (curved mirrors) to concentrate sunlight 650 times onto gallium arsenide-based solar cells (on germanium substrates) that have high solar energy conversion efficiency (approaching 40%, more than twice that of traditional silicon solar cells). Like its smaller SF-1000S system (approved by the CEC in September 2008), the firm's second product (the SF-1100S, launched that November) uses about a thousandth of the active solar cell material compared to traditional silicon-based PV panels, but boosts panel conversion efficiency from 18% to more than 25%.
SolFocus claims that, in solar-rich regions like Australia and the southwest USA, its CPV technology yields significantly more energy than other technologies, as well as having an extremely light environmental footprint (involving a small land footprint with dual-use potential, and no permanent shadowing or wildlife corridor disruption).
See related item:
Victor Valley College installs 1 MW solar power plant
Visit: www.solfocus.com
Visit: www.ingenero.com.au
Visit: The Australian Energy Resource Assessment