News
4 August 2010
Cree LEDs being used in 64,000 Optiled luminaires to retrofit Singapore public housing complex
Following an LED lighting pilot program that started in December 2008, Hong Kong-based LED lighting solutions provider Optiled Lighting International Ltd has again teamed with LED maker Cree Inc of Durham, NC, USA to complete the first phase of the lighting upgrade of Singapore's historic Jurong Town public housing estate.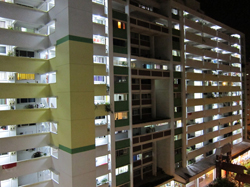 Built to meet stringent international standards, the installation is the Singaporean government's largest ever public LED lighting retrofit, and the first time a country in South East Asia has implemented LED lighting in a public housing complex, it is claimed.
Jurong Town Council (JTC) awarded the project to a consortium that includes Optiled, UGL Premas and Smart Energy, which is tasked with upgrading Housing and Development Board (HDB) buildings managed by JTC. The new fixtures offer benefits including greater energy efficiency, longer life spans, and superior light quality, as well as greener technology that contains no mercury, lowers CO2 emissions, and produces no harmful IR or UV rays.
Due to the large scale of the installation, Optiled's expertise in integrating power supply design, thermal management, optical solutions, digital control, mechanical design and LED technology, together with Cree's lighting-class XLamp XR-E LEDs, are key to installing LED lighting fixtures as a retrofit in more than 400 of the town's 588 buildings. Altogether, 64,000 Optiled LED lighting fixtures are to be installed.
During the pilot program JTC found it was able to save 52% on energy consumption compared with conventional fluorescent tube lighting. Since the response from the residents was very positive during the trial, JTC is confident that service quality will not be affected by the upgrade. The council now estimates that electricity consumption will be cut by 30%, after the installation is completed in December.
Cree has been Optiled's sole LED chip provider since 2000. Other cooperative efforts between them include LED lighting for a growing number of APAC projects with renowned hotel groups, international banks, retail chains, and more. "Our experience working with Cree gave us complete confidence we could meet the challenge," says Optiled's managing director Peter Chan.
"Optiled has helped bring our LEDs to the forefront," adds Soo-Ghee Lee, VP & general manager, Cree Asia Pacific. Most recently, Optiled was the only Asian firm among 32 winners of a 'Design Plus powered by Light+Building' award (for its ARRAY product series, which is powered by Cree LED components).
Visit: www.optiled.com
Visit: www.cree.com