News
24 August 2010
Cree launches MX-3 lighting-class PLCC LED suiting bulbs, retail display and linear lighting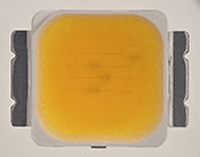 LED chip, lamp and lighting fixture maker Cree Inc of Durham, NC, USA has announced commercial availability of its new 100+ lumen XLamp MX-3 LED, extending the firm's lighting-class performance to a broader set of applications with enhanced light uniformity and LED-to-LED color consistency.
The MX-3 delivers luminous flux of up to 122lm at a drive current of 350mA in cool white (6500K) and up to 100lm at 350mA in warm white (3500K). Cree says that the new LED offers design simplicity and flexibility, sharing a common footprint with the firm's XLamp MX-6 LED, and suits LED bulbs, retail display lighting and high-flux distributed illumination such as cove lighting and wall washing.
"The XLamp MX-3 is designed for customers who demand lighting-class performance across their entire product line," says Paul Thieken, director of marketing, LED components, who claims that Cree offers the industry's tightest color consistency and uniform angular chromaticity.
MX-3 LEDs are available in sample quantities immediately and production quantities with standard lead times.
Visit: www.cree.com