News
10 August 2010
Mercedes-Benz opts for Philips Lumileds LUXEON Rebel LEDs for daytime running lights
Philips Lumileds of San Jose, CA, USA says that Daimler AG (parent company of Mercedes-Benz) has adopted its LUXEON Rebel LEDs for use in the daytime running lights (DRL) on several models (starting with the E-Class in June 2010).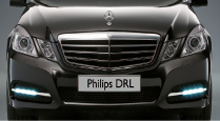 "We have chosen Philips Lumileds as our partner for the next generation LED DRLs not only due to the product supremacy in lumen output, quality of light and thermal stability, but due to the entirely trustful cooperation between the engineering teams on both sides," said Uwe Kostanzer, head of exterior lighting department, Mercedes-Benz car group.
Michael Holt, CEO of Philips Lumileds, said: "We have enjoyed an excellent working relationship with Daimler AG for many years, and the adoption of LUXEON LEDs in the Mercedes platform is an exciting expansion of our relationship."
"Mercedes' leadership in adopting LED technology is a tremendous signal for the entire segment and could further accelerate the penetration of LEDs into vehicles," said Klemens Brunner, VP Global Business Unit Automotive LEDs at Philips Lumileds.

Search: Philips Lumileds LUXEON Rebel LEDs Daytime running lights
Visit: www.philipslumileds.com