News
18 August 2010
Microsemi launches smallest WLAN PA for handsets and wireless modules
To continue its expansion into the fast-growing market for WLAN products used in space-constrained smartphones and other data-enabled cellular handset designs, Microsemi Corp of Irvine, CA, USA (which designs and makes analog/mixed-signal ICs, high-reliability semiconductors and RF subsystems) has added to its recently introduced LX5553 and LX5543 front-end modules (FEMs) by launching the LX5514M power amplifier (PA) to support IEEE 802.11b/g/n WLAN applications in the 2.4–2.5GHz frequency range.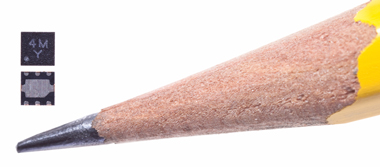 Based on InGaP HBT process technology for optimal performance and linearity and with an RoHS-compliant, 6-pin dual flat no lead (DFN) package that matches the industry's smallest 1.5mm x 1.5mm, 0.4mm-high footprint, the LX5514M is based on the proven LX5514 PA, which has been streamlined to fit into a compact, ultra-low-profile package. Like the LX5514, the LX5514M includes fully matched input, simplified output matching, and an integrated power detect function that not only saves board space but also reduces total BOM (bill-of-materials) cost. Pricing in 10,000-unit quantities is $0.45.
"Board area in today's smartphones is at a premium, and designers must squeeze more functionality into ever-smaller real estate," says Paul Pickle, VP & general manager of Microsemi's Analog Mixed Signal Group. "The LX5514M enables designers to add WLAN capability in nearly half the space of the prior generation of 2mm x 2mm PAs, and with a much lower profile that enables today's slim, sleek handset designs," he adds. "Customers get the industry-leading performance and efficiency of our PAs for routers and other networking equipment, in a package optimized for the stringent space requirements of smartphone designs."
Microsemi's portfolio of IEEE 802.11a/b/g/n WLAN, 802.16e WiMAX and WiBro power amplifiers are used in applications including wireless access points and half mini-cards for notebooks and netbooks. Reference designs with market-leading WLAN chipset makers are available for many of Microsemi's power amplifiers.
Visit: www.microsemi.com