15 December 2010
NASA SBIR award for GeneSiC power management project for Venus explorers
GeneSiC Semiconductor Inc of Dulles, VA, USA, which develops silicon carbide (SiC) devices for high-temperature, high-power, and ultra-high-voltage applications, says that its project 'Integrated SiC Super Junction Transistor-Diode Devices for high-power motor control modules operating at 500ºC' has been selected by the US National Aeronautics and Space Administration (NASA) for a Phase I SBIR award.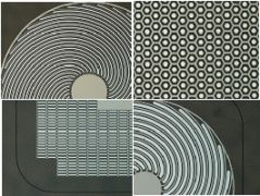 The SBIR project is focused on developing monolithic integrated SiC junction barrier Schottky (JBS) diode-Super Junction Transistor (MIDSJT) devices optimized for operation under Venus-like ambients (500ºC surface temperatures). The SiC MIDSJT devices will be used to construct motor control power modules for direct integration with Venus exploration rovers.
Picture: SiC Super Junction Transistor gate–source pattern.
"This project will enable GeneSiC to develop industry-leading SiC-based power management technologies through its innovative device and packaging solutions," says the firm's director of technology Dr Siddarth Sundaresan. "The SiC MIDSJT devices targeted in this program will allow kiloWatt-level power to be handled with digital precision at temperatures as high as 500ºC," he adds.
"In addition to outer space applications, this novel technology has the potential to revolutionize critical aerospace and geothermal oil-drilling hardware requiring ambient temperatures in excess of 200ºC," Sundaresan notes. "These application areas are currently limited by the poor high-temperature performance of contemporary silicon and even SiC-based device technologies such as JFETs and MOSFETs," he adds.
GeneSiC says that it continues to rapidly enhance the equipment and personnel infrastructure at its facility. The firm is hiring personnel experienced in compound semiconductor device fabrication, semiconductor testing and detector designs.
Visit: www.genesicsemi.com