17 December 2010
JPSA completes expansion; to add workstations to job shop
JP Sercel Associates Inc (JPSA) of Manchester, NH, USA, which makes UV laser-based materials processing workstations for wafer processing and micromachining, says that construction on expanding its laser manufacturing facility has been completed.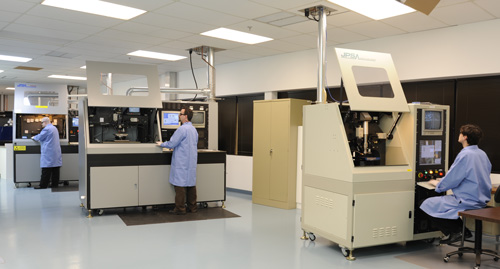 This adds an extra 24,000ft2, giving JPSA a total of over 58,000ft2 of work space and providing the ability to meet increasing demand for LED, solar, and excimer laser micromachining systems.
The expansion doubles the size of the existing laser production area used to manufacture high-throughput, high-precision laser micromachining systems. It will also provide cleanrooms, R&D laboratories to develop cutting-edge micromachining applications, and ergonomic office space to accommodate growing customer service and engineering teams.
"The laser equipment and R&D services we provide will carry our growth into the next decades as we continue to develop new technologies and increase our workforce," says chairman & chief technology officer Jeffrey P. Sercel. "We at JPSA feel fortunate to partner with Jewett Construction in our growth," he adds. "Their commitment to providing us an energy-efficient building while meeting deadlines ensures JPSA will have a smooth transition to our next phase of business."
JPSA has also announced an expansion to its job shop operations with the addition of new diode-pumped solid-state (DPSS), ultrafast and excimer laser workstations. This will extend the firm's capacity to accommodate its global micromachining customers with cutting edge applications in the LED, solar, semiconductor, specialist microelectronic, and biomedical industries.
JPSA's building expansion provides additional space, enabling the installation of several laser micromachining workstations, including the ultrafast laser tools. As well as providing cleanrooms and expanding production for manufacturing laser micromachining systems, the new facility houses an expanded full-featured job shop and applications laboratory.
"The ultrafast lasers will permit fabrication of traditionally difficult materials such as quartz, glass, and various metals, allowing us to deliver a wide spectrum of materials processing capabilities," says Sercel. "We also added key application scientists as part of our planned growth strategy to better serve a global laser technology market."
JPSA starts expansion, driven by LED market growth
Tags: JPSA Wafer scribing
Visit: www.jpsalaser.com