2 December 2010
Osram Opto's LEDs illuminate Tchibo sustainable coffee bars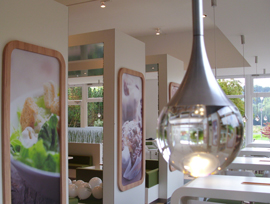 Osram Opto Semiconductors GmbH of Regensburg, Germany says that its OSLON SSL 80 LEDs are being used in the 'Dropled 100' pendulum luminaires devised by Simon Brünner of 'neuesLicht' (a luminaire designer with his own label and production in Germany) to match the interior of Tchibo's new 'insgrüne' ('into nature') concept coffee bars on university campuses.
Picture: Luminaire in Tchibo 'insgrüne' coffee bar. Image: Tchibo, Simon Brünner.
Osram Opto says that the luminaire produces light that is not only atmospherically pleasant but also 'green' since, due to the energy efficiency of the LEDs, the lighting is particularly economical and hence ecologically friendly.
The coffee bars, so far opened at the German universities of Göttingen and Greifswald, are 'green' in a number of different aspects, from their color design and fair-trade coffee to the sustainability of their lighting, says the firm.
Osram Opto says that the 80° reflected beam angle of its OSLON SSL LEDs suits Brünner's pendulum luminaire. Other factors include their efficiency (83lm/W at 3000K), light quality, long lifespan and compact size (3mm x 3mm). OSLON SSL LEDs are also available in a wide range of color temperatures (2700–6500K).
Osram Opto reckons that the decisive factor for Brünner's pendulum luminaires was that, due to their small size and low thermal resistance (typically 7K/W), the LEDs can be placed very close to each other, producing a lot more light within small luminaire areas. 'Dropled 100' by 'neuesLicht' uses three OSLON LEDs per luminaire. In the pendulum luminaires in the 'insgrüne' coffee bars, the LEDs are not even visible due to the subtlety of their use.
"For me, LEDs open the door to entirely new design options," says Brünner. "Thanks to their compact size, I can approach illuminants far more creatively and realize designs that would have been hitherto unthinkable," he adds.
In the technical realization of the luminaire, Brünner was supported by Elec-Con technology GmbH of Passau, the Osram 'LED light for you'. Elec-Con is one of the new system integrator partners in 'LED light for you' (a network initiated by Osram that cooperates with customers on realizing new solutions using LEDs). As such, Elec-Con supervises the professional coordination within such projects as well as between light planners and designers.
Tags: Osram OSLON SSL 80 LEDs
Visit: www.osram-os.com/osram_os