10 December 2010
Osram Opto team receives Beckurts Prize for developing direct green-emitting laser
The annual Beckurts Prize of the Karl Heinz Beckurts Foundation — honoring outstanding scientific and technical achievements giving rise to discernible impetus for industrial innovations in Germany — has been awarded to Osram Opto Semiconductors GmbH of Regensburg, Germany for "pioneering work in researching direct green semiconductor lasers" (which can open up new markets such as ultra-compact mobile RGB laser projectors, says Osram Opto).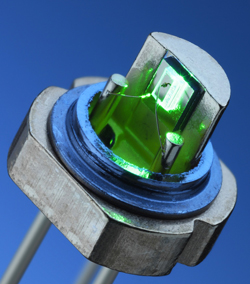 Picture: Osram Opto's direct green laser diode.
The availability of very small and low-cost red, blue and green semiconductor lasers is crucial for large-scale diffusion of RGB laser projection, says the firm. The laser diodes enable the production of low-cost, compact and efficient pico-projectors, which can be incorporated into mobile devices such as smart-phones or digital cameras. Due to the beam properties of lasers, the projectors have unlimited depth of sharpness and extremely high resolution, beyond that of LED solutions, adds Osram Opto. Also, the low spectral bandwidth of semiconductor lasers enables life-like display of colors plus sharp contrast.
The firm only started developing direct blue laser diodes for RGB laser projection in 2006. These are now being used in the first devices on the market. Based on the findings for the blue laser using the indium gallium nitride (InGaN) material system, the team managed within a short time to achieve emission at green wavelengths beyond 500nm. In 2009, it achieved optical output power of more than 50mW from a direct green laser diode emitting at a wavelength of more than 515nm.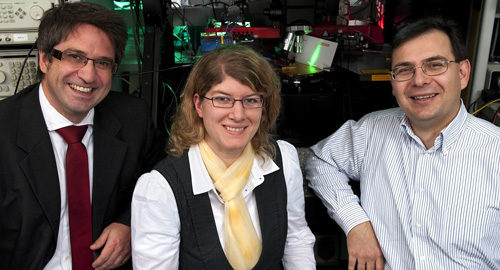 Picture: Osram Opto's Stephan Lutgen, Désirée Queren and Adrian Avramescu (left to right), who have received the Beckurts Prize for development of a direct green semiconductor laser for projection applications.
The development of blue and green laser diodes and research into the miniaturization of systems in mobile laser projection is supported by the project MOLAS (technologies for ultra-compact and mobile laser projection systems) as part of the 'Optical components and systems for volume markets' funding initiative of the German Federal Ministry of Education and Research. Osram also works on nitride lasers in collaboration with several German universities and research institutes (Désirée Queren, for example, wrote her dissertation based on a collaboration with the University of Erlangen). The foundation for the results with the semiconductor lasers was laid as early as 1998 through development work with ultraviolet (UV) lasers, in particular in the project 'Blue laser based on GaN for innovative storage systems'.
True green laser light from c-plane nitride semiconductors
Green laser diode market $500m by 2016 as pico-projector market drives growth
Tags: Osram Green laser diode InGaN
Visit: www.osram-os.com