8 December 2010
TriQuint expanding Richardson fab for 6" GaAs
RF component maker and foundry services provider TriQuint Semiconductor Inc of Hillsboro, OR, says that, in response to growing demand for its communications semiconductors, it is expanding its plant in Richardson, TX.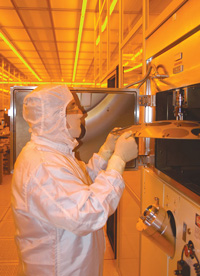 Covering 550,000 square feet (including 48,000 square feet of Class 1 cleanroom) on a 33 acre site, the Richardson fab (originally built for the TwinStar joint venture between Texas Instruments and Hitachi) currently uses 4-inch GaAs wafers and only about two-thirds of the cleanroom. In addition to the Mobile Devices sector in Hillsboro (which accounted for 63% of the firm's total revenue $654.3m in 2009), Richardson accommodates some operations of both the Defense & Aerospace sector ($78m revenue in 2009, 12% of TriQuint's total revenue) and the Networks sector ($163.5m, 25% revenue). In total, Richardson accounted for about 18% of TriQuint's revenue in 2009.
However, TriQuint is installing new 6-inch GaAs wafer equipment during fourth-quarter 2010 and first-quarter 2011 (occupying almost 100% of the cleanroom), for process qualification over Q2–Q3/2011 and ramp-up through Q4. In total, the firm plans to invest $100m in Richardson over the next five years.
Out of TriQuint's total worldwide staffing of 2329 at the beginning of 2010, Richardson's full-time staff accounted for 527, but this will rise by 165 (about 31%) this year to nearly 700, according to an interview with TriQuint Texas' VP of operations Howard Witham in The Dallas Business Journal. In first-half 2011, TriQuint will add about 100 temporary staff, who will most likely become full-time within 6–9 months after they're hired.