News
10 February 2010
Anadigics introduces smallest dual-band CDMA PA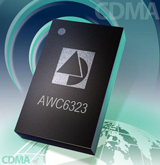 Broadband wireless and wireline communications component maker Anadigics Inc of Warren, NJ, USA has introduced a new CDMA power amplifier (PA), the AWC6323, designed for CDMA handsets and data cards.
Picture: Anadigics' new CDMA PA, the AWC6323.
Anadigics says that for the first time, high performance directional couplers have been integrated into a dual band CDMA PA in a 3x5x1mm footprint. Furthermore, the AWC6323 offers the lowest quiescent current in the industry for a CDMA PA, adds the firm.
Features of the AWC6323 include:
Three mode states to achieve high power added efficiencies at several power levels during the phone operation.
An industry-best idle current for a CDMA power amplifier of 3.5mA. This increases handset talk time performance without the need for a DC-DC converter.
A common output port for the directional couplers built inside the package. These couplers offer 20dB directivity and 22dB coupling factor.
Conforms to linearity requirements of CDMA EV-DO Revisions A and B modulations, to offer very high data rates for smart phones and data cards.
Manufactured on indium gallium phosphide (InGaP) BiFET MMIC technology.
"Customers are particularly enthusiastic about the high levels of integration in a very small package. The innovations inherent to the AWC6323 help simplify design, reduce component count and save on board space. These attributes directly address the needs of today's advanced handsets and data cards," said Prasanth Perugupalli, director of the Wireless RF Product Line at Anadigics. "Anadigics is also offering extensive support for our customers through a front-end reference design kit, utilizing the most commonly used filters and prescribed matching networks to aid in the phone broad design and reduce time-to-market."
The AWC6323 is now ramping into volume production and complete evaluation kits are available upon request.

Search: Anadigics CDMA PA InGaP BiFET MMIC
Visit: www.anadigics.com